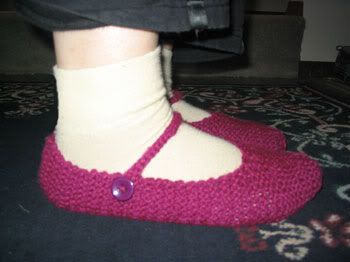 How I made them:
I used chunky yarn and size 7 US needles.
-cast on 30 stitches
-knit for 7.5-8 inches in garter stitch -- eyeball it based on the length of your own foot, I wear a size 9-10 US
-k2tog for one row
-k2tog for another row
-cut off a remainder of yarn, and thread it through the stitches like a drawstring.
-fold your fabric in half and, using the remainder yarn, sew the edges together for about 3 inches.
-using the tail of your working yarn, sew up the vertical seam for the heel
To make the strap, I crocheted a double chain with a loop at one end. I sewed one end to the slipper, and sewed a button to the other side.
I was inspired by other mary-jane slipper talk on this board, and I'm dying to try more advanced models like
the felted ones on this page
or
knitted-in-the-round ones
. These are really basic and easy, which is good for beginners like me.
You could probably work these slippers in stockinette too, yeah?
Thanks for all the inspiration you provide, folks!
(ETA: Ooops. Um, it would help if I posted the correct image.)