My boy has been hinting to me like crazy that he wants this shirt. Seriously. I can't really explain what this means unless you have seen the movie
Me and You and Everyone We Know
, which in that case you already know what this means and are probably squeeing just like me.
it started with this:
)) <> ((
Okay, okay...I know. It doesnt mean anything...or does it? Lawl. I love it.
Without further ado, here is the extremely simple shirt I made for the boy...(also, my first stenciling project):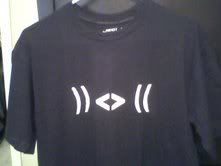 Here is a close-up:
It's a little bit wonky, but it will do. I didnt have any freezer paper when I made it, but it turned out decent.
I think i'm going to add "
Forever.
" to the back.
What do you think?