Here are the corrections I made to the pattern:
Upper Sole: Rnd 4: Is one stich short, Rnd 5: Is 2 stiches short, Rnd 6: Is 3 stiches short, and Rnd 7: is 4 stiches short. If you look at the pattern and where the increases are it should be pretty obvious where the stiches should go.
Bottom Sole: Rnd 3: Should start with a Ch3 just like the previous row otherswise you can't sl st into the 3rd ch at the end of the rnd like it says. Also, in this rnd the two sc's should be dc's. Rnd 4: Should also start with a Ch3 although I didn't need a rnd 4 at all on the Bottom sole otherwise the bottom sole would've been way bigger than the upper sole and I don't think it would've looked right.
I also ended up adding an extra row to the slipper top to make it big enough to fit my foot in right. And I had to go up to a J hook to get the right guage.
I haven't done the fulling yet or sewed added the nose or eyes but here's a picture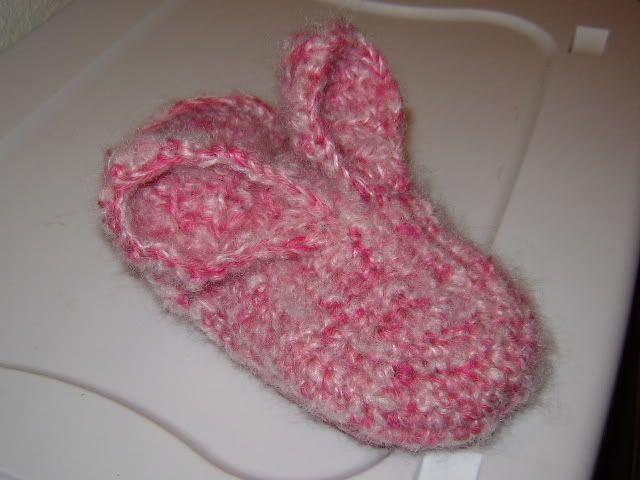 Hope this helps if you're having troubles.
I just saw the Errata post with the corrections for the guage and the Bottom Sole, that helps!
Good luck,
Christina