I hope I put this in the right board!
Eventually I'm going to put up all my varied crafts here for all to see but to start, one of my favourites. This is a clock I made oh about a year or so ago. I wanted a clock of my favourite NASCAR driver, Michael Waltrip, but I did not like any of the designs at the official NASCAR store. Furthermore, I wanted dimension! I wanted something NOT a circle! I've made several clocks and none have been a plain circle -- too boring!
Almost all supplies from Hobby Lobby. I took the 12x12 shadow box base, a 4x6 box frame, a clock movement, some number stickers from scrapbooking, and had some photos I took of Mikey's car enlarged. I also enlarged a photo I took of an empty front straightaway at Chicagoland Speedway -- I had a press pass back in 2002 (college newspaper) and I got lots of great piccys especially of Mikey's car since NAPA did a press conference followed by a photo opp with his car.
Next I had my now-ex-bf drill a hole in the box frame with a dremel (gotta get me one of those). Then I decided where I wanted the face to sit and sat the box frame in place. I cut the 12x12 mat that comes with the shadow box to fit around the box frame. Then I started adding decorative elements. Sky colored scrapbooking paper I had in my collection was glued to the inside of the sides of the box frame, and then was also used as the base for the face. That's where the cool closeup car shots went. The front straight went at the bottom. Car stickers from my scrapbooking collection filled in the rest.
Took some super-duper super glue (I forget the exact one I used but it wasn't "Super Glue" the famous one but more like a model building type that "welds" plastic together) and glued the box frame into place. A hole got cut in the back of the shadow box base so the battery could be replaced in the movement. Then the two model cars (I had duplicates of that particular Mikey car and that D.W. car) were glued in front of the straightaway picture. AFTER the glue set I realized I had them driving backwards! <groan> I say Mikey's doing a Polish victory lap and D.W. is chasing him saying "NOW can I drive the Aaron's Dream Machine?" but my coworker says they're on the backstraight
After I had those elements in place I added the numbers (they're stickers and they're on top of the box frame) and the movement. Then I took it to the Hobby Lobby frame shop (I work at HL, in fabrics) and my coworker cut the custom mats and then put it together with the custom frame (of course NOW we get a readymade 12x12 frame -- even at 1/2 off that frame was $20!)
Total cost? Well the frame and mats killed me, the frame was $20 and the mats were I think $6 each (one blue one black with yellow cut edge), the movement was $5, the shadow box base is $7, the box frame is about $2, the cars I forget but probably $1-2 each, the enlargements were $5 (Kodak Photo Machine at Walmart), and everything else I had in my supplies already so about $50 or so maybe less (I'm going by memory here). Unique though!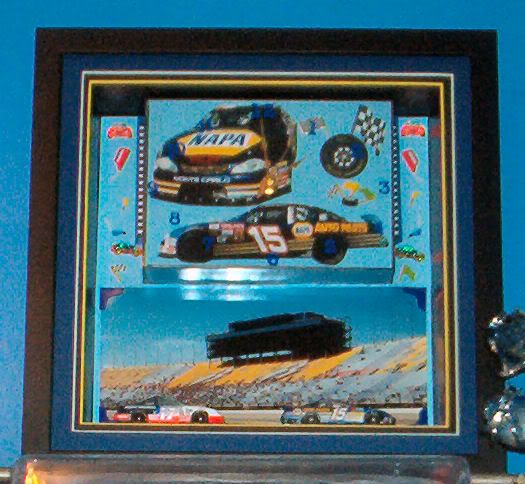 So opinions? Thoughts? Boos?
Mary Jo