I received a wonderful package from DesignVigilante! My themes were reading, the 80's, vintage/retro, owls, and citrus. Thanks for everything DesignVigilante!
Everything together
Red Hat and Slippers for my vintage theme & two hats & two bookmarks for my reading theme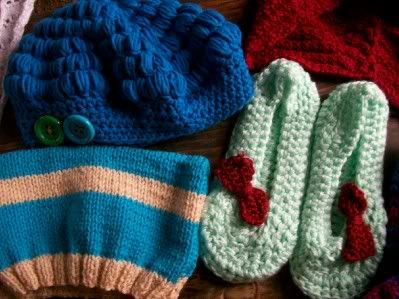 Two wrist warmers for my citrus theme & an owl eye mask & really cute owl fabric
Cute citrus shopping tote, owl mug, citrus squares for an afghan I'm working on, plus yummy tea and wonderful smelling soap! I can't wait to try the chocolate tea! And for my 80's theme I got a really soft scarf and a calirometry!