...You save up a bunch of old classical music and turn it into a purse!
I got the idea just today actually and I adore the outcome. It's a little..weak meaning I'm not sure how much it can hold. So I figure it's mostly going to be for show. I hope you guys like it =D
This is the front. The music is Death Valley Suite.
Finished piece. Entire thing made of sheetmusic with a cardboard bottom for support.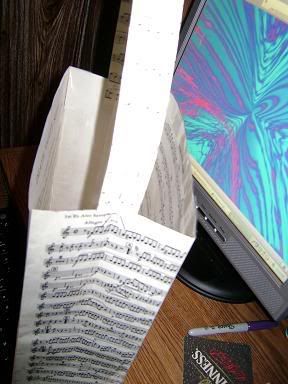 side view. =D
Again, I hope you guys enjoy it!
Please let me know what you think. Good/bad.