I need some original suggestions for a window treatment for this window: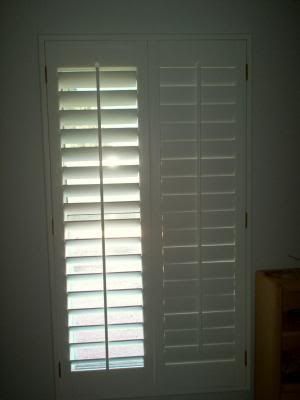 The measurements are a very rough approximation of (I don't have anything to measure with right now) 4 by 6 feet. But I'm having trouble because of it's depth from the wall of about 2 inches:
I'm planning on doing this room with a bright, retro, almost kitschy mood. Something like what you'd see back in the 70's with funky designs, but also moderinsed with sleek, abstract, one-of-a-kind furniture. The colour scheme will be oranges, greens, and browns mainly, with splashes of other bright colours to keep it from being too frumpy.
The inspiration comes from a bag I made using vintage 70's fabric, but I don't have enough left to to curtains (I don't think, anyway):
(This is the best picture I have right now of the fabric--and you can't even see the brown!)
If you have ANY idea, help clue me in?