[moved to a more appropriate place, man I must be tired!]
So, first things first.
This: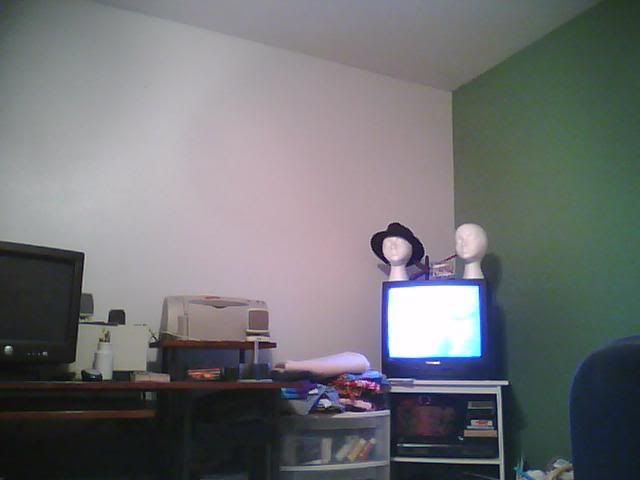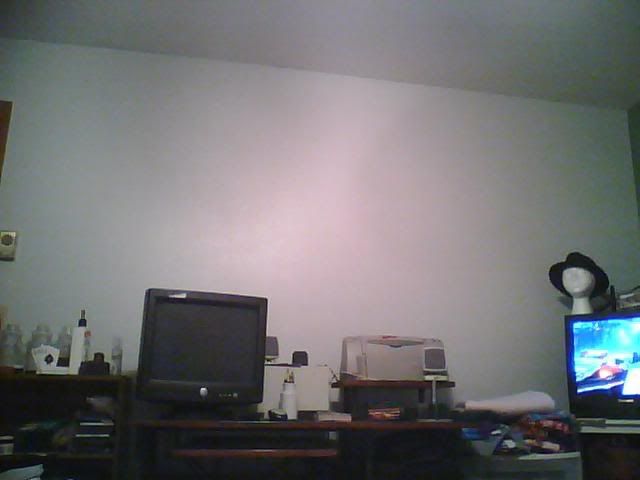 is my ugly wall.
The super cluttered book shelf to the left is a "pile" of things that belong to my husband, and the lot of it is getting kicked out as soon has he has some free time. The gray Deskjet is going to be replaced (or maybe just tossed, we haven't decided yet). Also, the ugly white plastic caddy with the fabric piles on top are being displaced and reorganized as well.
I am sad to report that our clunky little tv is a permanent fixture.
We just painted. You can't really tell, but the walls are a very temper-mental shade of gray-blue. They are WAY more blue than we had anticipated. The carpet is blue and we have a pine green accent wall,which seems to make it even worse. I can't bear the thought of painting the whole thing over again, (the fumes were sooooo intense and our house is teensy) so I've decided that with a little cleverness and creativity I can just make it work for now.
I've decided I would like to try something like this:
http://www.instructables.com/id/DIY-Vinyl-Wall-Art/
but I'm really having a hard time coming up with a design (and a color for that design to be) that feels whimsical but still adult. I think a lot of my problem is that the colors are screaming "child's room" at me.
Anyone have any visions while staring at that silly wall??