OK let me see if I can help you with what you are looking for.
Look at the top of the arms where they meet the fabric.
You will see where it looks like is it sewn on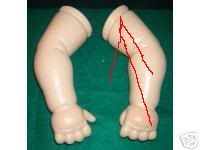 That little grove I put the arrow too is what holds the cable tie (hard plastic thing int he seam) So look right at the spot where the arm connects and pull the fabric back just a little.
You should see a hole where the tie was run through the seam and tightened. In fact if you run a finger around that seam you should feel a hard bump and that will be where the tie connects.
Get a pair of scissors that you will not mind dulling to cut it at the bump
I hope that helps