What great pouches
- amazing embroidery spidermom!
Talking of great pouches I've received from bethimusprime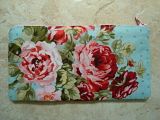 I love it! the rose on the left is embellished with pink and red stitching. it's just so cute, thanks for being my partner bethimusprime!
*Edit: sorry about the blurry pic, I managed to get a good photo that showed the stitching, I used photobucket and the pic came up clear but really small, I adjusted the size of the pic and it went blurry, I'll put up the clear pic too -maybe there's a way it can be zoomed -If anyone knows what I need to do on photobucket to bring up a clear larger pic please let me know!!