Okay, this post is gonna be quick and dirty-
These are my two favorite projects from last semester, and are also two of the first ceramic pieces I made. I believe all of the pieces we make in my class get fired at Cone 10.
Slab-form sushi tray (Los Altos clay, Shaner's Orange glaze):
What's that? You didn't know sushi grows on trees?!
The design was cut with a needle tool, then the slab was thrown down at an angle to open up the lines. It's a bit hard to tell in this picture, but I love how the glaze bubbled up and turned black in the crevices. It looks like tree sap! And you can hardly tell the foot snapped off of the left bottom corner, which was lucky.
Slab-form bowl (Los Altos, Winnokur glaze w/red stain underneath):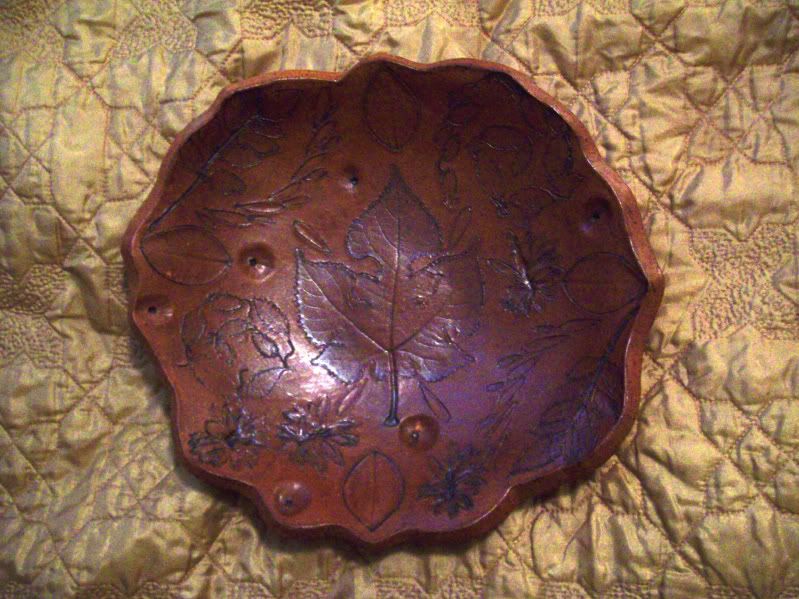 We were required to use at least three different types of leaves from plants outside the ceramics studio, then to trace the edges of the leaves to enhance the pattern. The little circular impressions were key limes, he he. I put a ridiculously small amount of glaze on this one. The color you see is purely the clay body showing through. Winnokur glaze is meant to turn off-white. :/ Somehow 75% of everything I made turned out brown because of the same mistake.
Let me know what you think! I'm always eager to learn and I know we've got some amazing potters here.