Hooray, I've graduated from the land of scarf-only knitters! (well, I did once make a shawl but it hardly counts because it was just a YO at each end to make it triangular.) In any case! Pictures!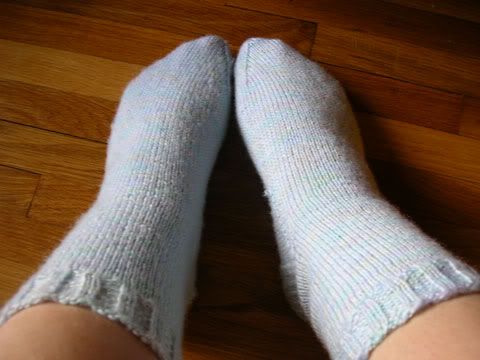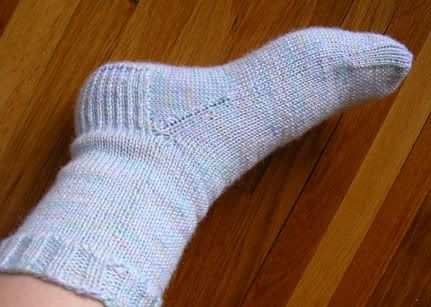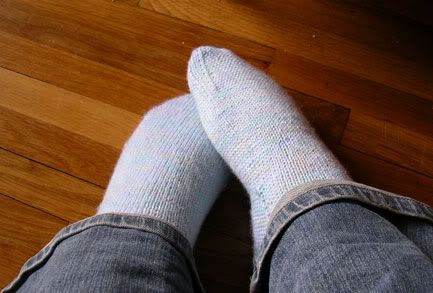 I used #3 dpns and TLC Baby in Bunny Print. I was at Michael's, they don't have much selection of sock-type yarn there, but TLC Baby is a really really thin sport weight and it worked great. I used Silver's Sock Class rather than a straight-up pattern and adjusted it so the leg wouldn't be all ribbed, which I don't like, so I like this much better. In all this project took me about 5 weeks, but that's coz I put it down for nearly a month in between. I got sock 1 done in 5 days (with surgery in there somewhere) and cast on right away and got nearly done with sock 2 in another 2 days, but then set it down until 2 days ago, so if you scrunch the time together, it took about 11 days. Not bad for first socks!
Things I learned on this project:
-DPNs aren't scary! Really! You feel like you're going to poke your eye out for the first 3 or 4 rounds and then it just makes sense. I love them!
-I looooove turning heels. It's some kind of crazy voodoo. So awesome.
-Picking up stitches is kind of cool and not hard at all. I expected far worse.
-Kitchener stitch is not that bad either!
Next up- some serious cabling or intarsia, or maybe lace! I love knitting socks!