I have always watched my grandmother quilt and decided to start on my own. I am making it for a family member with a little girl. I love the colors and the simplicity of it. Just wanted to share my first block. Each little sqaure is 5x5 inch. I have a long way to go but I am hoping to finish before Christmas.
I just love the quilts you guys have posted, I can't wait till I can do something a little more involved.
**12-5-2006- UPDATE**
I am 2 strips away from finishing the quilt! Hopefully I will get that done tonight (if I can stop doodling on craftster
). I still need to sew all the strips together and quilt it but I plan on tacking it so it shouldn't take too long... I hope. I plan on mailing this next week!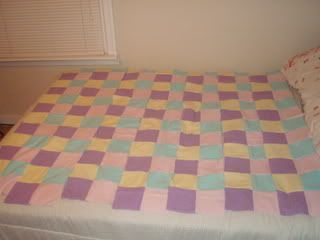 ***12-18-2006 UPDATE***
THE QUILT IS FINISHED! I just love how it came out! Here are some pictures...