I cleaned out my room a bit, and discovered how much I can really do to make it... superbomb. For example... get a hamper, instead of using my handy floor as one.
The list is as follows, more or less
-organize/beautify desk
-Revamp dresser-space/clean out
-make my t-shirt blanket/new duvet cover
-clean up my icky "entertainment roll-y thing"
-more fresh flowers!
This weekend I want to buy some flowers and clean up my desk space, but today I did my little TV-stand-entertainment-what-have-you.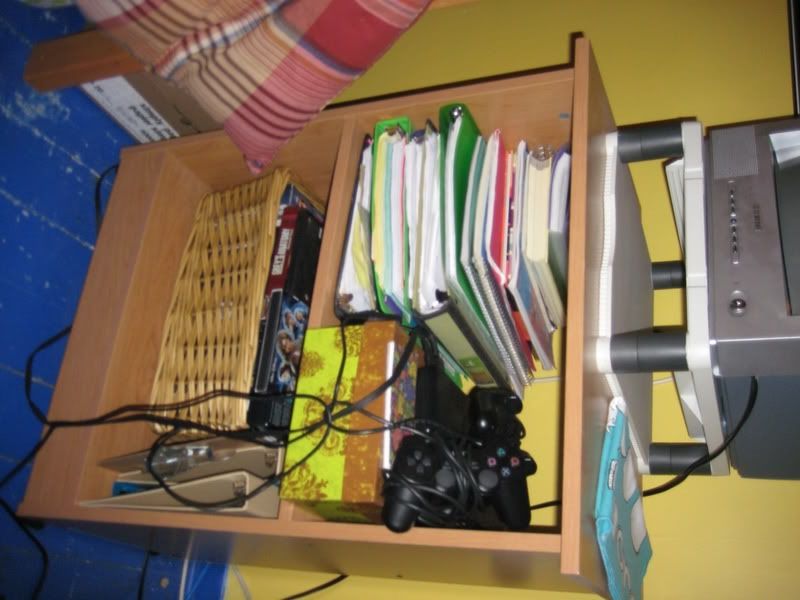 Blech! Cords! Unimportant crud!
Oh! Beautatious once again! My oh my! I filtered out the old school/show binders (finally), got around to tucking the cord in the back. And what are those, ou might ask? Those little purple monster? THAT IS RIGHT. CONTROLLER COZIES.
Cool, or cool? I'm REALLY not a seamstress (at all)... not enought patience. I'm actually embarrassingly terrible at it. So the fact that these actually work amazes me! It's just a little less messy and took about twenty five minutes for me to do. Plus, they look like little monsters!
Anyways, when you have to closet and a small room (damned old houses), you really need to work on your skills of "do I really need it?" or, as I do, find good places to hide things in
other
peoples rooms!