I received my awesome package from jonnamarco yesterday. She must have very fast fingers, because she sent me so many beautiful things!
First, this excellent set of blank cards with Day of the Dead skulls and anatomical drawings: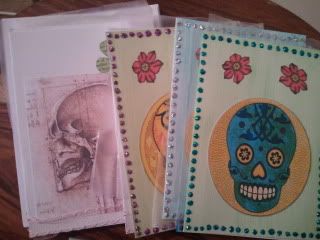 She ALSO sent me these awesome earrings. Two sets of cupcakes (LOVE) and some very pretty teardrop bead earrings (I'm wearing these today!), and an adorable set of charms--one is a tiny monkey.
Thanks so much jonnamarco!!!