Another common search for the perfect substitute is with milks! Soy milk makes me feel gross and the thought of drinking a class of milk straight up makes me gag, and I have a strong stomach.
http://img.photobucket.com/albums/v331/itsaliger/32-ozBlissChocolateWeb.jpg
-Manitoba Harvest's Hemp Bliss (chocolate)
-Vegan and Canadian (whoo)
-about 3 or 4 bux
-0/5 NO DICE!!! other people I have discussed faux milk with have agreed, something is just not right, some things should not be milked though I'm sure it's good for you and all that jazz. Couldn't even finish off a glass of it.
but there is hope!
*insert backlit shining beam of light here*
http://img.photobucket.com/albums/v331/itsaliger/AlmondBreezegroupshot.gif
-Blue Diamond's Almond Breeze, I prefer the unsweetened variety as it boasts only 40 calories a cup as per sweetened soy milk which can get up to 160
-Vegan Heaven
-$2 at the local grocers, $4 at Safeway(boo!)
-5/5 It doesn't have the suspect hormones of soy or the watery thinness of rice milk, it's something you can drink the plain unsweetened variety of and not spit it out and want your money back. I have yet to find the unsweetened chocolate but oh my, the sweetened variety is fake milk at its glory with no chalky aftertaste. Won't drink coffee without it.
....
..it's awesome.
I totally agree with you that HEMP BLISS is crap. However, its a crappy brand of the AMAZING product that is Hemp-milk. Hempmilk has amino acids, omega-3's, protein, vitamins, iron, calcium, etc..and is way better for you than soy, dairy, or other substitutes. Although new on the market and a little pricey, I highly reccommend the Living Harvest brand of Hempmilk. Especially Vanilla. AMAZING in everything, especially with granola. holy cow, when it goes on sale at my co-op again I'm going to buy a whole case.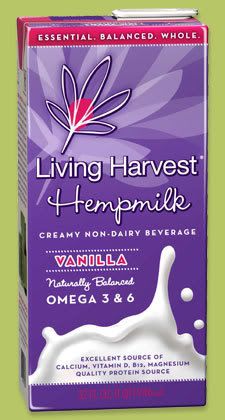 Vegan - Living harvest hempmilk
5/5 , so damn tasty.
and, Almond and hazelnut and Oat milk are just as yummy! Some people are put off by what they are made from, but who thought of drinking another species breast milk in the first place? That seems hella weird to me. happy munchin crafters!