I'm an interior architecture student, and our studio project this term is to design a retail space that sells only products made from "reclaimed" or recycled materials, so one of our early assignments was to make something that could potentially be sold in our "store".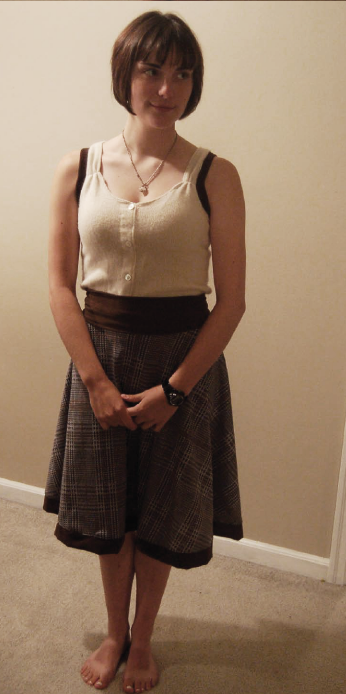 The dress bodice was made from a vintage wool cardigan that I accidentally sent through the wash some time ago. About a year ago I salvaged the sleeves to make socks (so soft & warm, I definitely recommend doing this if you have old wool sweaters!), and kept the resulting vest in case I could find a use for it. What luck that I came across it as I tried to think of the laziest way possible to make a bodice for this dress! I sewed up the front seam (so it wouldn't pull-- it had shrunk quite a lot!) and redid the sleeves & collar, then attached it to a basic circle skirt cut out of vintage polyester fabric (trimmed in remnants from the coat described below). Oh, and the fabric give enough that there is no need for closure, you can just pull it over your head! It's very comfy.
The cardigan was made from vintage stretch knit fabrics, with an old shoe string and button for closure. (You can't actually see that-- the model is wearing a belt over it that can be worn with the dress, the cardigan, or both, and is also made from leftover coat fabric.)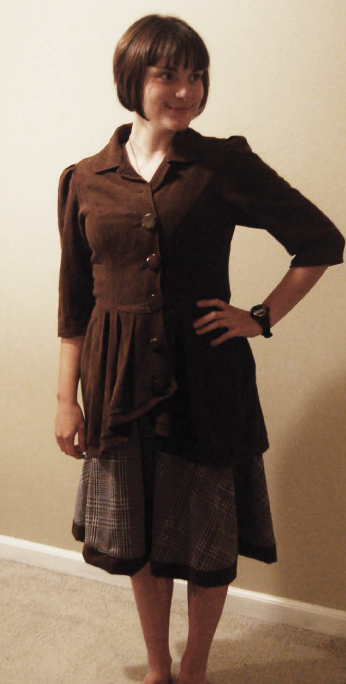 The coat was actually reconstructed-- it was a floor-length big ugly German coat that I had been meaning to fix up because it was such soft fabric (herringbone corduroy) and had nice pleating & princess seams. I just brought it in, redid the sleeves, trimmed the bottom to a fun new shape, added vintage buttons & moved the closure over to make it asymmetrical (a little modern touch, I suppose). And voila!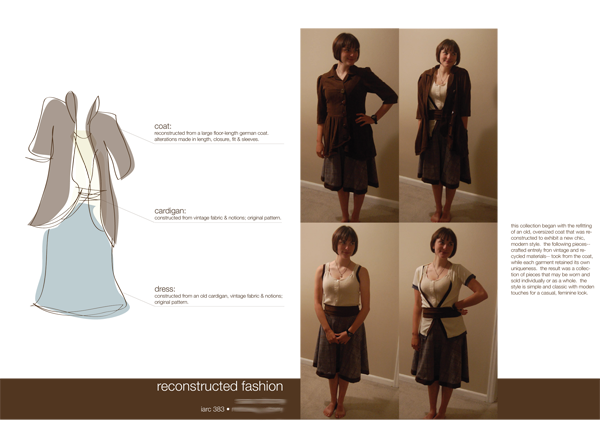 This was the board I presented.
And yes, I thought to put this in the reconstructed category, but most of it is just made from recycled fabric, so I figured this would do.
PS - A shout-out to anyone who recognizes this project! It was presented in a mini-gallery walk at my school. Also a shout-out to my roommate, who graciously acted as awkward model.