I got my package a couple of days ago! I've had to help my boyfriend pack up and move his stuff out of his apartment though. He's got basic soon so he doesn't want to pay for the rent while he's not there. He's going to move to a different complex when he's gotten back. He's storing his stuff at my place for now so it's a bit of a mess right now!
Anyway, that's why I haven't put the pictures up yet, but Pirate Kisses and I were partners. We both have boyfriends in the army right now and wanted to make stuff for each other while our boyfriends were away. She did such an amazing job!
Here's everything together: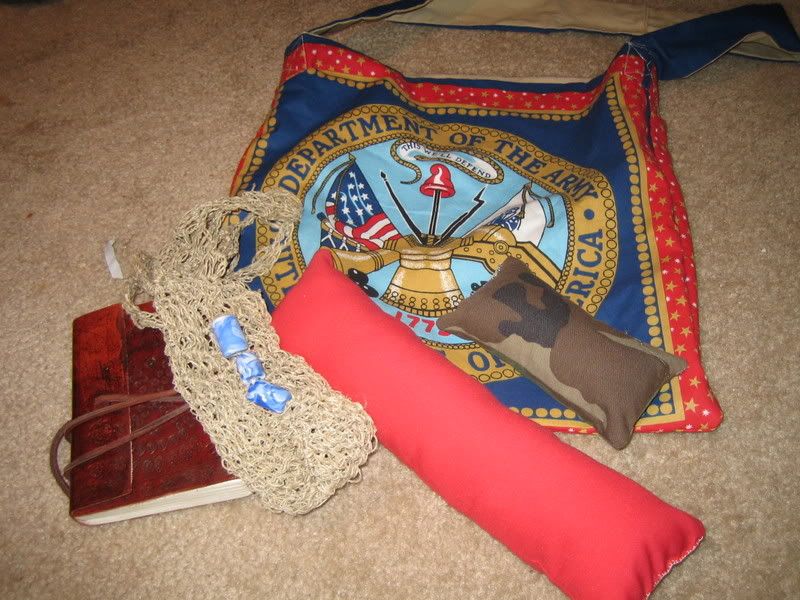 She made me a beautiful purse:
This is probably my favorite item.
In this picture underneath she made me a BDU pincushion for my pins and sewing needles, a red neck pillow, and she hand stitched a water bottle carrier for me out of hemp for long walks:
She also bought me a gorgeous leather journal and wrote "Army Girl" on the inside: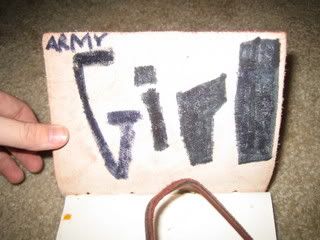 The journal is pretty awesome. I really like that these are all items I can use. The neck pillow is comfortable! Also, everyone's stuff turned out so wonderfully. Everyone here is so talented!