hi! i have emerged from drowning land (now that i am finished with the frugal swap) and can post the three wonderful sets of inchies i have received so far. i'd like to thank my partners (vinnie451, beckashell, and thelastkodama) for being PHENOMENALLY patient!!!!
without further ado, inchie awesomeness:
from vinnie451:
these beautiful fabric inchies should come as no surprise as they seem to come from the same sets as other partners of vin's have showed. i LOVE them! my favorite is the little green and yellow flower one, though they are all gorgeous! i totally did not expect to receive fabric inchies (i didn't even think it was possible to use fabric in such an intricate way) so i was blown away by these!
NEXT! thelastkodama:
first off, she sent me some awesome extras, apparently learning of my pirates of the carribean and xmen love through some clever stalking!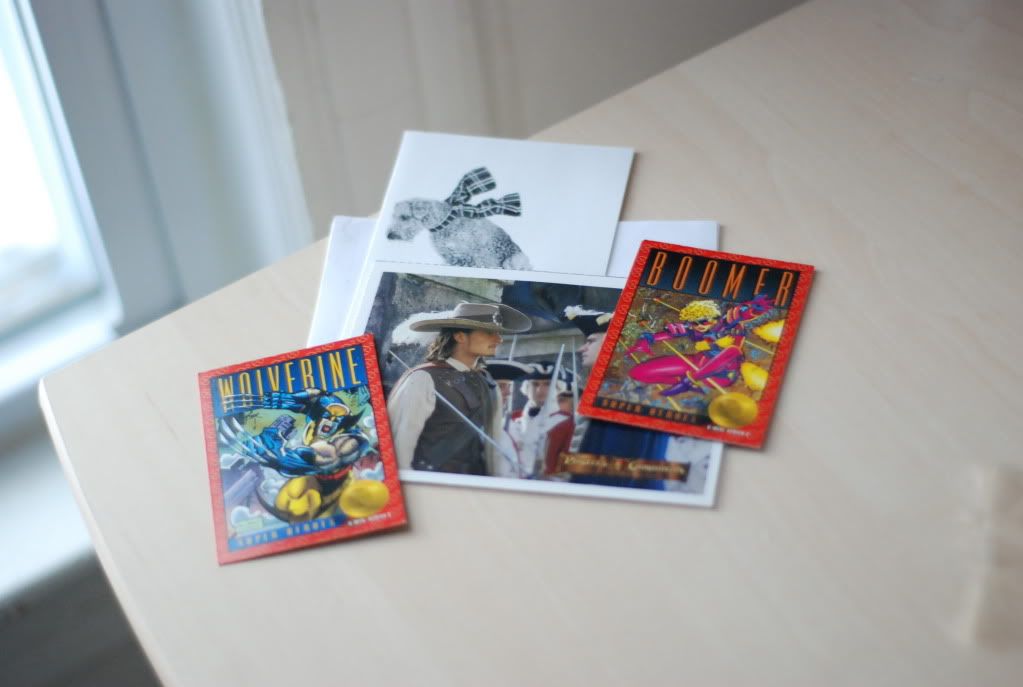 and her inchies...i couldn't get a good photo of these and had to scan them:
wow! these are great! i love how gorgeous some of these are despite being minimal ('water', the whale stamped one, the quote) - they are great. i really love them all, though favorites i think are the jk rowling quote and the embroidered flower. beautiful!
last, but definitely not least, from beckashell:
i too have received the awesome glued on card presentation - this is such a cool way to display them! another great set. i love the red and orange graphic one - seems so 70s to me, which i love. also the 'appealing face' and the flower - both gorgeous.
thanks so much to all my partners from whom i've recieved - your inchies should be on the way soon, and i hope they stand up to the ones you sent!!!