joann's had a $1.99 pattern sale recently, so i had to stock up
this here is simplicity 2965 - it is a project runway pattern (which, to be honest, makes me feel kinda dorky
) but i liked all the different options they give you so you can use this pattern over and over with different results. my kinda thinking!
and POCKETS omfg i love me some pockets.
i used a thick-ish red suiting material and lined the entire thing in red lining (even though the pattern only calls for the bodice to be lined... suiting is kind of itchy and i'd like to be able to wear this thing with tights in the winter). next time i make this, i will probably need to shorten the shoulders - once again, mine prove to slope more than normal.
i ended up using this dress to enter in the mad-men casting call contest... the winner gets a walk-on role in the show
i LOVE mad men, it's my favorite, so obviously i took every opportunity to go as retro as possible! my hair, although looks cool, definitely did not look so cool from the back
and yes, that is my kitchen, re-styled a little for photography's sake. my friend morgan took the pictures, aren't they awesome?!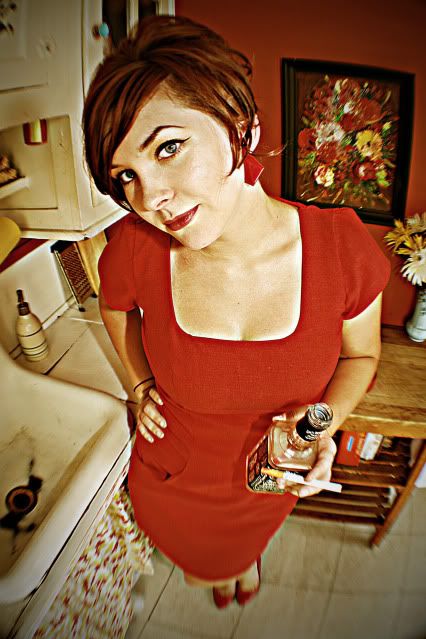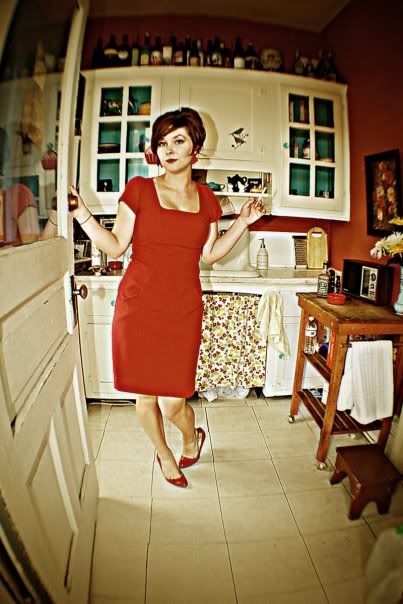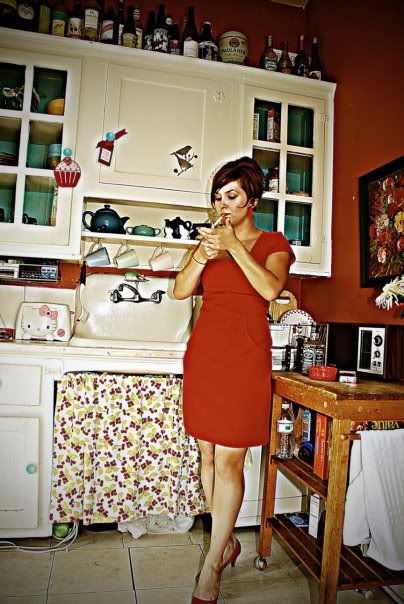 (i actually quit smoking 4 months ago... just pretended to light up for the pictures. don't worry, the cigarette was never lit
)
if you want to vote for me, the link is at
http://madmencastingcall.amctv.com/photos/view/4214
. i need five stars!!
if you want to comment on how great these pictures looked (because my photographer is amazing, not because of my lack of modeling skills
), you can do that too
either way, please let me know what you think!