God. I love the 80's, and everything tacky that is included with the decade.
That being said, at first I wasn't so sure about this particular artifact. I bought it for a dollar at the local Goodwill outlet the day that I heard about this challenge... I really didn't have any intentions on entering it (and after seeing Jayne's contribution, I'm REALLY thinking that I have no chance!), but I am really excited about the outcome. This is a really simple recon - and I like it that way. I like that it didn't take too much to re-vamp it, yet it looks completely different. All I did was remove the sleeves and make new ones - I used a tshirt for the black base, and the binding came from the enormous sleeves that I cut off. Then I took the whole thing in and gave it a feminine shape. That's it!
Anyway! On to the pictures! No action shots - it's a couple sizes too big for me. Sorry!
BEFORE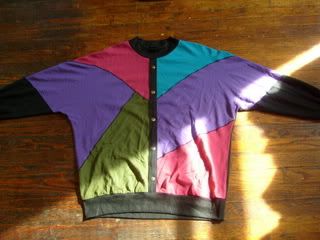 Here she is in all her glory. All my friends laughed hysterically when they saw this picture.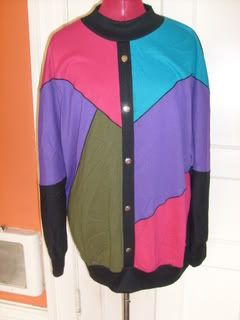 On my dressform.
CHECK OUT THIS FREAKING ARMPIT! I swear, the hole started somewhere around my bellybutton.
Sorry about the overabundance of befores... I really couldn't get over the ugliness, though.
AFTER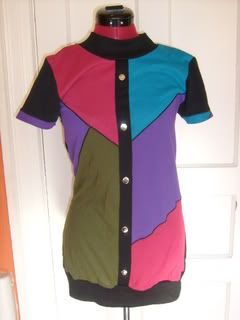 Minidress!! It's still got that deliciously tacky 80's color scheme, but it actually fits.
In case anyone was wondering, those snaps don't actually unsnap. They are purely for decoration.
Binding! I tried to incorporate at least 2 different colors on each sleeve. I wanted some of that stained glass action in there.
Thanks for looking! And remember - there is no such thing as "too ugly"!!