i've been wearing a lot more "classy" looking clothes lately... trying to find stuff i can wear to the office and still feel comfortable trolling around the bar in (bonus: i get a lot of free drinks when i'm dressed like this. no idea why). i found this pattern for a high-waisted pencil skirt and it fits me better than anything i could have bought at express!
the pattern is butterick 5249, view C. i generally like butterick; i think their fit is spot-on, but this one was kind of weird.. i usually wear an 2 or a 4 in ready-to-wear (and subsequently an 8 or 10 in patterns on my bottom half), but based on the measurements, i wear a 12 in this one
and it fits me like a GLOVE. so be forewarned if you try this one; you may have to go up a size or two
the pattern was reeeeeally easy and straightforward, the only adjustment i made was adding a lining (so i can wear it in the winter with tights!
), which was easy enough in itself: i just cut the lining to match the front and back pieces once they were sewing together, and sewed it to the bottom of the waistband facing. oh, and i used an invisble zipper because that is all i had on hand. the fabric is a tweed wool blend that my mama bought me last year - a little itchy, but the lining took care of that!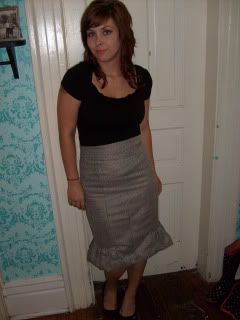 how i wore it today
closer shot of the front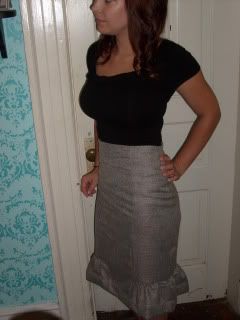 side view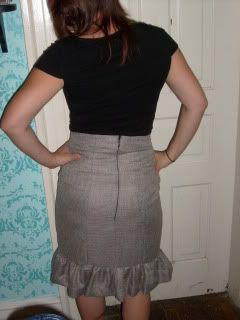 back view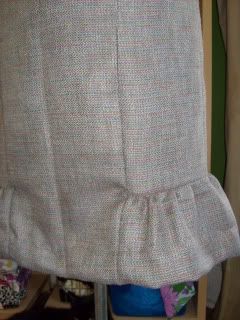 i need to steam press my hem (again!) and fit that little pucker where the ruffles meet the front panel... next time, i will probably sew that panel in last so it will stay smooth.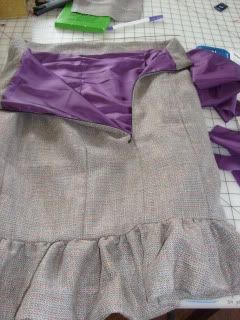 lining! i used purple because that's all i had, but the fabric has a bit of purple woven in, so it does match
oh, and i had to totally frankenstein that lining because it was just scraps. whatever, it's lining, no one is going to look at it
i'm posting this picture because i'm pretty please with the inner construction - i took the time to serge eeeevery edge and then press the seams open. since the fabric is so thick, it took out a lot of the bulk (important when you are wearing such a form-fitting skirt, yeesh!)
i know it looks like it should be tight since there is no slit, but there is enough ease in the pattern so the skirt is quite comfortable. i love it! i think i'm going to make my next one in the same red suiting fabric i used for my mad men dress...
anyway, thanks for looking! please let me know what you think