I finally got to do a bit of sewing this week. I have sewing plans for this weekend but I thought I'd share this now.
I originally traced the pattern for this from Ottobre way back in december. It was intended to be a solistice gift for the monkey. However, life got in the way, and it wasn't until last week that I got around to cutting it out.
It is princess lenght, btw, for anyone with a preschool girl. Apparently princesses can not see their own feet or they will faint or sprout warts or something horrible, so
my princess
can only wear very long dresses. jsyk.
I chose the red linen to be seasonal, but nixed the sleeves from the pattern and then failed to line it (I used bias tape to secure the neck and armholes). I like that it will be cool enough to wear in the summer (long enough to protect the legs from the sun) and roomy enough to layer underneath for winter wear.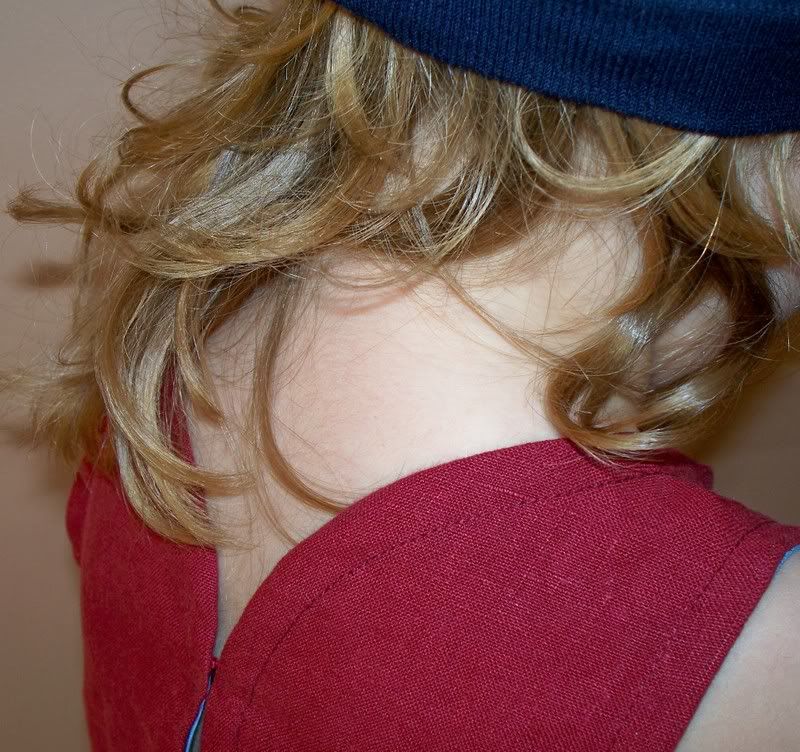 The back is modified from the original pattern - I just put in two hook and bar sets to keep it closed and curved it instead of having two meeting 90 degree edges.
I couldn't get a good shot of the bodice to show you how many ways the bodice is cut up and sewn together so I played with the colour so you could see. The bottom is actually in two parts, with the bottom layer cut on the bias for extra twirl.
The whole thing is nicely understated with the solid colour and design... I'm rather pleased and, best part, the monkey likes it and it isn't even pink or purple. I'm thinking that it needs a little shrug to keep her arms covered in this cold weather. Something for the bottom of the list
I can't wait to wash it too. Linen always looks best freshly washed and the seams will all settle in with the bias tape.
Comments, questions always welcome!