I've been working on creatively framing this and that, which I want to display. These are some of my efforts.
My go at shabby chic, with my fav Maxine cartoon. The frame with originally this horrible gold plastic thing. It's just a photocopy of the cartoon, stained with tea (from my morning cup), and a floating mount on some heavy paper. Glue is my friend.
And this is crepe paper wrapped around chopsticks, wired onto the cardboard base. I covered the pics of my brothers becaue I'm positive that they wouldn't like this at all. So don't tell 'em. They're teenagers and this sort of thing would put them off for years.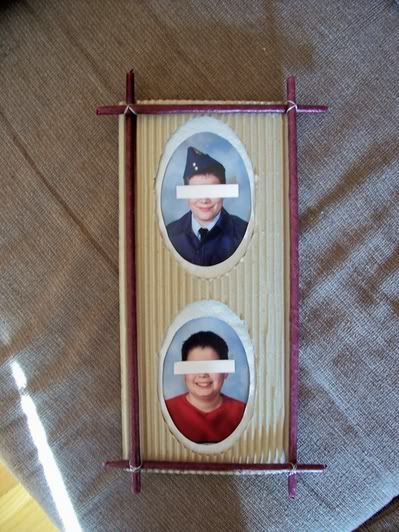 And just painted and matted, a pic of my family 20some years ago. That would be my mom's butt in front. Don't tell her either, she's going through menopause and this sort of thing would put her off for years. The village of the damned looking kids are my brother and I (I'm the cute one).
And that's that. Hope you enjoy!