it took so long to make so i dont intend to make another
so unfortunatly there will be no pictures with this tute.
im sorry if i am unclear please tell me.
ok step 1
cut paper into 2inch by 5 inch rectangles (you will need about 300)
step 2
fold each peice like you would to make a bubble gum wrapper chain
(lengthways in half, unfold, lengthways both edges into the middle crase.


now you have a long thin peice. fold it in half

and then unfold and fold the edges into the middle crease)

http://www.gumwrapper.com/build.htm
step3
make the peices into chains (10x 20 peice long chains(5 for each side)
and 1x 100 peice long chain(to be made into a loop for the bottom sides and handel))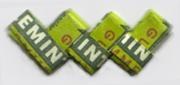 step4
(appologiese for the crummy drawings hopefully they will be clear enough when you are holding your work in progress)
position 5 of the chains so that all of the ends point up and glue them onto a peice of paper
without getting glue on the edges
(the edges will be that outside of the red line in a later drawing)
cut away the paper so the it cant be seen from the front
do the same to the other 5 but have all of the ends pointing down
now you have the two sides of the bag
step5
fold the outer triangles(those separated by the red line) inwardsso that they sit at 90degrese to the side.
so the the side is square but leave the top of the side alone as it dosnt need to be folded at all
step6
now we need the long chain
the folded in triangles should fit into the gaps between triangles on the long chain use paper and glue to hold them there from the inside (duct tape also works well but is less permanent)
do this to atach both sides to the long chain along the bottom and sides (this is why one side has its ends pointing up and the other down)
i did alot of fudging the bits into place so im sorry if the tute is unclear, just experiment untill it works out