Here are some necklaces I've made recently. I've made lots of stuff lately, but I wear these most often.
First is a tooth-shaped pendant I thought was really cool. It's agate, I believe. I oxidized some silver chain/wire and put 3 glass beads on one side. I am trying to get over my problem with assymetry by using it as much as possible!
This one was kind of an experiment with resin. I had these pendant things with a space in the middle for a picture or whatever. I've had them forever because I couldn't decide what to put in. Finally I decided it would be neat if I collected a bunch of tiny leaves and flowers from my yard and put different things in each one. I've only done this one so far. The background is just something I cut out of an old book. I glued the stuff to the base and poured a tiny bit of resin on top. It's really simple and goes with everything...usually I wear it with this ice cream cone necklace, because I like ice cream!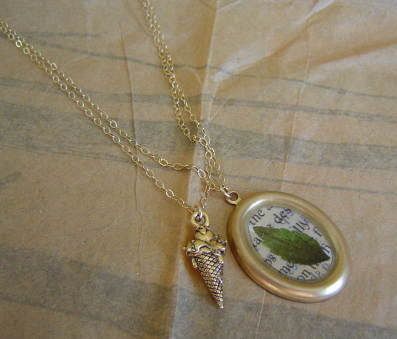 Thanks for looking