I've been wanting to try resin for quite a while, and a few months back I tried it out with the castin' craft stuff. Well, I ended up making a huge mess and the pendants never completely cured. I sort of gave up for a while... but last week I tried again with the easy cast stuff... and I'm so glad I did!
I didn't even make a mess this time! Haha.
So... here they are: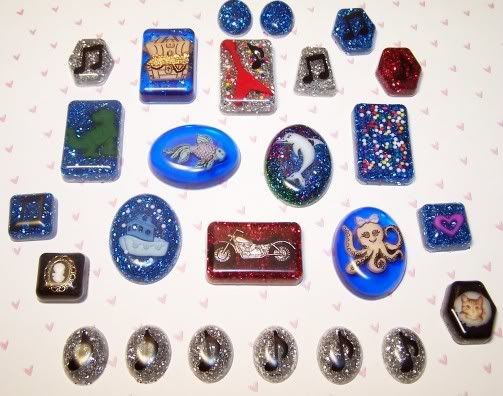 All of 'em together.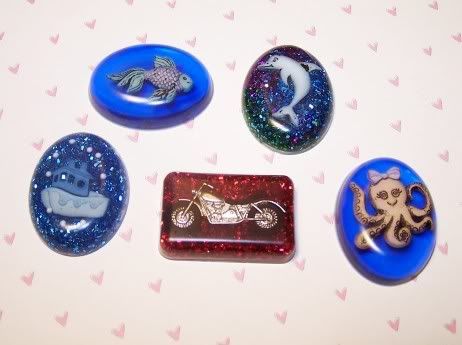 I really like the motorcycle pendant.... and I don't even like motorcycles. I'm quite scared of them because I tried riding one last year and I nearly ran straight into my neighbor's cop car... hehe. Of course, I was only going about 5 MPH, and the motorcycle I was on was actually more like a scooter... but still.
I was traumatized. =P
I like the one with the guitar.
Those will be rings. The ones along the bottom... the music notes with the silver glitter... I love those. I made one in my first batch months ago, and it was the only one that turned out decent. I attached it to a ring and I've been wearing it a lot.
Anywho... I'm quite proud of these. I just need to figure out how to make them all shiny and then I will turn them into necklaces/bracelets/rings. So woohoo!