First, a preview! =P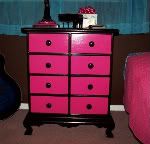 My Mom and I hit the local wal-mart sized (ok... maybe it's not that big, but it's a pretty giant sized thrift store) at least once a week. We typically never find anything that great, but one day we walked in and found the best table ever! As soon as I spotted it, I stood next to it to guard it until my Mom could find someone to bring it to the register.
Problem was, it was pretty beat up. See: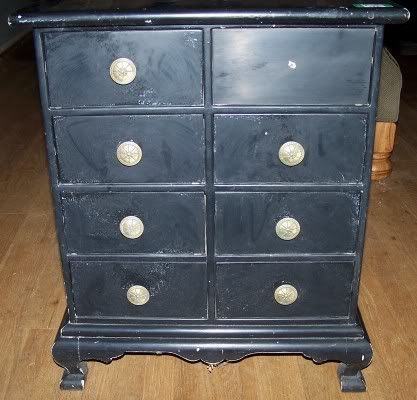 But I saw the potential immediately! I opened up MS Paint and drew out what I wanted to do to the table.
Then... I set to work. It took a few days, but I think it turned out really nice.
Voila!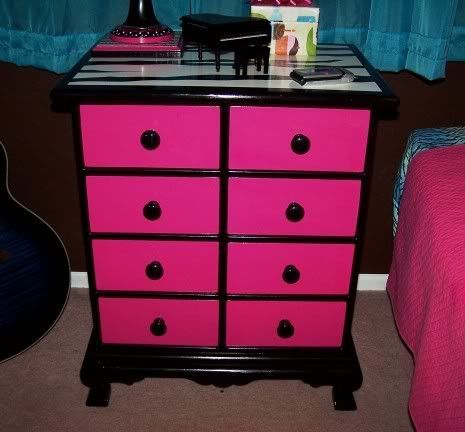 A view of the top. I cut up painters tape and made a stencil for the spiffy zebra stripes.
More angles.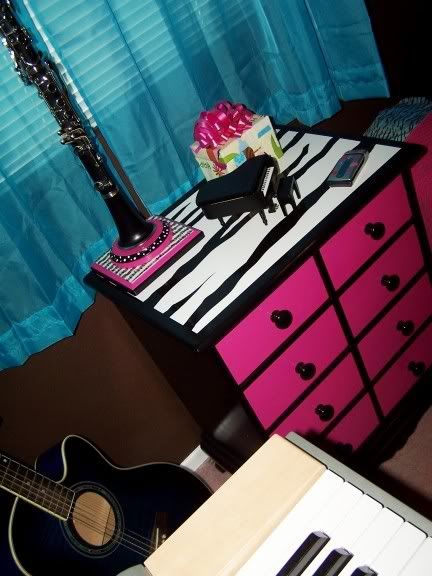 By the way... I have no idea how to play that guitar. I got it for my 20th birthday 3 years ago... and never got around to trying to learn how to play it. =/ But it makes me look all cool and talented so I leave it in the corner. Ssshhhh, don't tell.
So anyway.... this may be my favorite project I've ever done. I love it... and with all of the drawers, it's perfect for the massive amount of jewelry I own.
---------
Edit!
A lot of you commented on my clarinet lamp, and I just wanted to let you know I also have it posted on here. =) Here's the link:
https://www.craftster.org/forum/index.php?topic=294322.0
Thanks so much for the awesome comments. =]