I wasn't going to dress up this year because I was only planning on handing out candy and just wasn't feeling very creative. I NEVER wear a store-bought costume... and even if I did, the plus-size section can be very limited.
Then I saw this post:
https://www.craftster.org/forum/index.php?topic=217085.0

Suddenly I found myself at Joann's buying fabric and other supplies for a Voodoo Doll costume.
I had originally planned on getting actual Burlap, but although I can sew straight lines just fine, I knew if I was going to be making a dress, burlap would just drive me nuts. I found some brown tweed on sale for 50% off and figured it would do. I basically just cut out two dress shapes and sewed them together making the dress. I also sewed my very first zipper and it turned out awesome!
I left it unhemmed because I wanted a more ragged look. I stitched large x's all over with pink and black embroidery floss and added a red felt heart. To get the "needles" to stay, I just spiraled the ends and sewed them to the dress. I was planning on using styrofoam balls for the needle heads, but the wire would push through and I was worried I'd stab some poor kid in the face... so I made them out of polymer clay, instead. Then I took an old headband, covered it in the tweed fabric and attached another "needle". Oh, and I added some rope to the dress, too.
Anyway... enough rambling. I only took a few photos so I'm sorry for no detail shots. I could always add more later.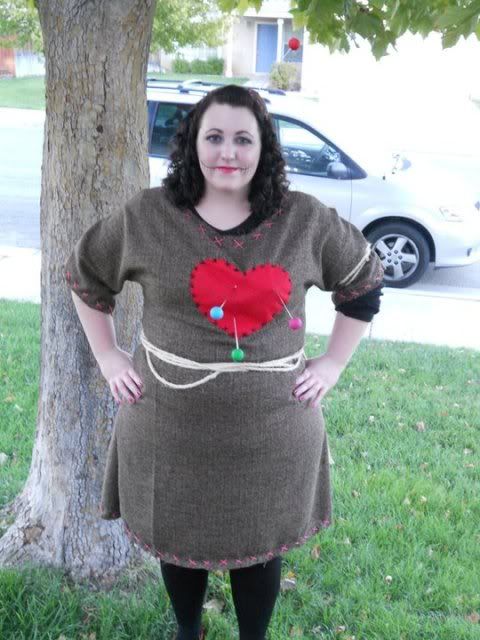 My boyfriend and I. I begged him to dress up... but he didn't feel like it, haha. You can see the headband in this picture.
Oh... and Betty Buttons. She got a costume from PetsMart because they were $3 and I didn't have time to sew her one. My boyfriend always calls her a little shark because she's going through that puppy phase where she is chewing on anything and everyone!