So I decided to cook again.
This time its a peeled apple cooked in strawberry jello.
Here's what you need:
4 Apples (Of your choice)
2 Strawberry Jello Packets (Or any red jello mix)
1/2 Cup Cool Whip (not frozen)
4 Cups of Water
1/4 Tsp of Ground Cinnamon
A leaf or two of mint (For Garnish)
What to do:
In a medium saucepan or some pan big enough to hold 4 cups of water, place the cinnamon and jello mix. Add the 4 cups of water.
Peel and core your apples. After the jello mix has come to a boil add the four apples. Cover and Simmer for 10-15 minutes or until it is forkable. Every 5 minutes turn your apples.
When finished, you may cool them or serve them as they are warm. Add a dollop of Whip cream on the side (2 tbsp). You can add the mint leaf inside the core to give it the apple look. I didn't. But If serving, It would look pretty. :]
I personally enjoyed them warm.
Here's what it looks like: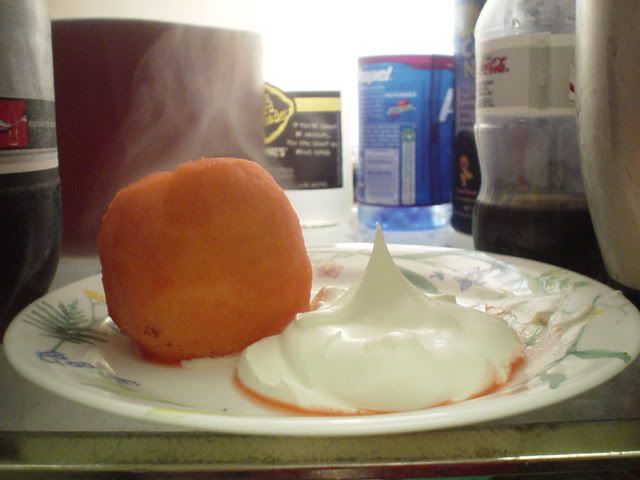 (This is the first one. The second looked amazing. But it was eaten too quick for me to get a picture of it!)