So you've finished your cross-sitch. You don't have the sewing machine skills to make it into a pillow, but its not the right dimensions for a frame. What's a craftster to do?
I came up with a way to make a very cute little hanging that can be hung pretty much anywhere.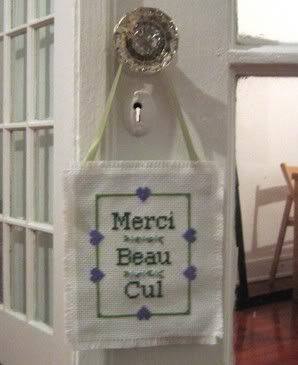 Materials:
- finished project
- steam-a-seam2-lite 1/2-in on a spool (or any heat-activated fuseable web material, preferably the double-stick kind)
- iron
- flat surface to iron on
- scissors (although I recommend sucking it up and buying a rotary tool and mat, its soooo worth it and really not very expensive)
- ribbon
- light-colored cotton or linen backing material (use a spare piece if you have one lying around, or pick up a quarter flat)
- a needle or pin
1. Trim the edges of your project so there is an even border of fabric around your design. I did a 1-inch border.
2. Fray each edge. Starting on the right side, gently pull the outer strip (it is probably already coming off a bit as aida likes to fray). Decide how wide you want your fray (I did five strips). Pull each strip gently. When it gets stuck, use the needle or pin to push it out.
3. Measure your aida legnth and width (not including the fray). Cut a piece of your backing material to be an inch longer and wider.
4. Cut a 1/2-in square out of each corner of the backing. You now have little 1/2-in wide "flaps" on each side of your material.
5. Cut 8 pieces of fuseable web: 4 the width of your project and 4 the length.
7. Lay the material down, wrong side up. Lay a piece of fuseable web on a flap, fold the flap over (so the fuseable web sandwiched inbetween) and iron it. Do this for all four flaps. Now you have a nice pice of "hemmed" material.
8. Cut two little squares of fuseable web. Stick one on each end of the ribbon, then stick the ribbon on the top two corners of your project, on the back side. Iron this.
9. Stick your remaining fuseable web on the edges of the back of the backing material. Lay the project face down, and stick the backing material down, face up. Iron.
Now you have a cute little hanging, perfect for hanging on a wall, bulletin board, knob or on any random corner or hook.
Notes:
- I was really worried that the fuseable web would come through the holes in the aida and get all gummy, but this was not the case at all.
- The reason I say to use light-colored backing is because darker material will show through and make your project look less bright. Of course, if you used dark aida, use dark backing fabric.
- This can also be done with regular embroidery on any non-heat-sensitive material. Skip step 2, and in step 3 cut the backing the same size. Do steps 4 and 7 for the project material as well.