Once again returning with some crazy t-shirt surgery. Not quite as extreme as
https://www.craftster.org/forum/index.php?topic=158481.msg1589074#msg1589074
The Red Monstrosity, but still pretty rocking. I think I used 8 white t-shirts total.
A little earlier in the summer, I'd been doodling around with some interesting uniform ideas for a story I was knocking around in my head. The girls uniform I came up with was really rather pretty, so I decided to make it. After stocking up on some messed up white T's from work (I work at a screen printer's) I remade them into this little number.
The yoke is stenciled with gold fluid acrylic (mixed with fabric medium) for the wing/eye design. The skirt is many many triangular gores cut out the backs of the shirts in varying lengths widths.
And yes, the shorts I'm wearing underneath I also made from the t-shirts, and stenciled to match because I'm crazy like that.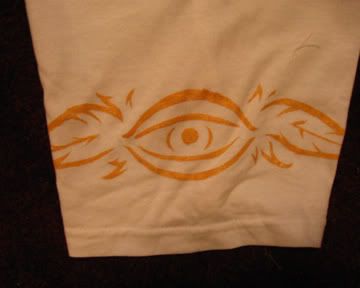 Short detail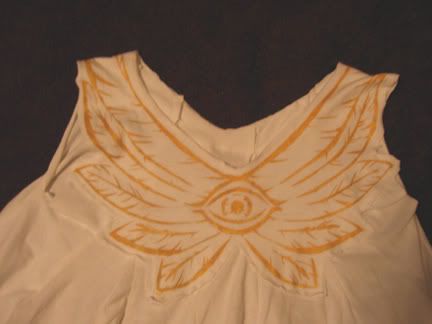 Yoke detail
And because you can't have enough wings, worn with my crazy ripped fabric wings.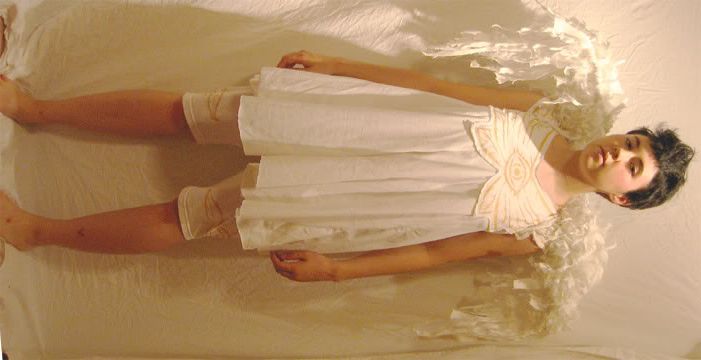 And because I did indeed wear it out....here's me with Liars and my mates after the Liars/Interpol concert~!