i just received my foreign package from pinkangel1979 today!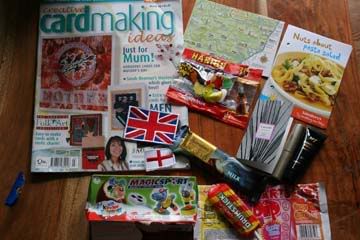 theres
:a cardmaking magazine
:CANDY, including kindereggs (my fave), chocolate, some gummi things that my nephew kinda stole (oh well) and this fizzy powder stuff.
:a postcard (and i don't think i even told her i collect postcards!)
:some makeup and ...perfume? i think. i HOPE.
:some flag patches
:recipe cards
wow i love it. Aaaand i'm going to gain a thousand pounds. oh well, candy. mmmm.