Hi, I'm Misty. This is my first post. I've been knitting since the beginning of December, and did scarves and wristbands and a hat (a modified Jayne Cobb hat I found here!) for Christmasy gifts. I now want to make something a little more challenging for myself, and after browsing an issue of Vogue Knitting, I stumbled upon a skirt that seems perfect: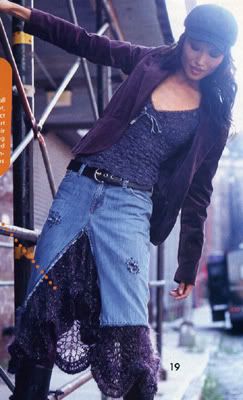 I can't find a pattern for this, so I guess I am going to have to devise my own similar style, but I get baffled when I think of how to even approach this skirt. There were instructions on how to use (I guess it's) squiggly bias tape to knit from the hem of regular clothing, but this one seems to be handled differently.
I guess recommendations also of lacy patterns would be welcome? I feel very clueless and inexperienced, but I know I can do this if I am pointed in the right direction.
All help would be greatly appreciated. I can't wait to put this baby up in the Completed Projects section.