yeah! so, I had this gigantic (try mens large) tee shirt and I didnt really feel like making it into a smaller tee shirt...but it was way too cute just to give away, I mean it says "will work for sushi" for cripes sake.
sooo i made it into this tote-like bag: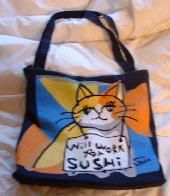 It looks a bit nicer in real life, the picture doesnt do it much justice..buuuut yeah.