I made this yesterday. Didn't quite know what category it fit it, so misc it is!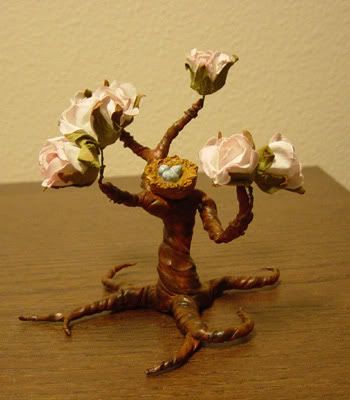 the money shot
different angle
closeup of the nest
next to a lighter for size reference
I made the tree, nest, and eggs from white sculpy. Unfortunately the branches drooped in the oven, so I had to break them off and reattach at different angles with wire and superglue. I stuck my fingers together a lot!! The flowers were some little silk flowers with wire stems that I wrapped around the branches and also glued. The whole thing was painted with acrylics. I really like it! It's sitting out on the bookshelf in the living room now, and goes very nicely sitting next to a cross stitch of a peacock that I did (
https://www.craftster.org/forum/index.php?topic=74998
).