One set of wedding invites nearly down, one to go....
I made most of the Chicago wedding ceremony/reception, rsvp, maps, etc. The only piece of the puzzle I bought was what I used for the reception invite (because everyone is invited to the reception, our ceremony is private). I was going to make the whole she-bang, but I saw the most perfect photo on an invite (a bride and groom kissing, riverside) and couldn't find it anywhere to duplicate it myself. We're getting married on the river and it was too perfect, plus it fit with both the Walt Whitman and Robert Frost quote I wanted to use! Here's some shots of the work we've been doing. After spending a week on the STD's, I am finding this is moving much quicker!
Here you can see the ceremony invite on the left, our lovely b&w reception invite in the middle and the embossed ceremony card envelope on the right: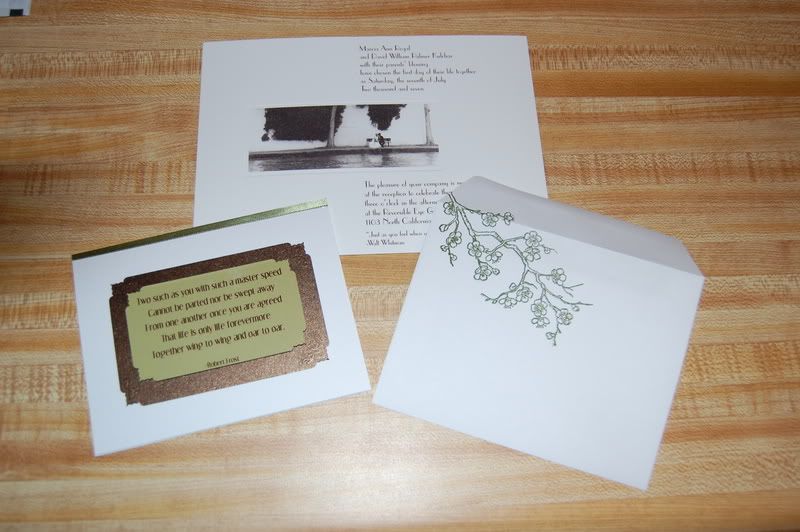 Outside of the ceremony invite:
Inside of the ceremony invite, with green vellum insert:
Detail of my envelope embossing, phew! That took a while, but I love how it looks and feels!: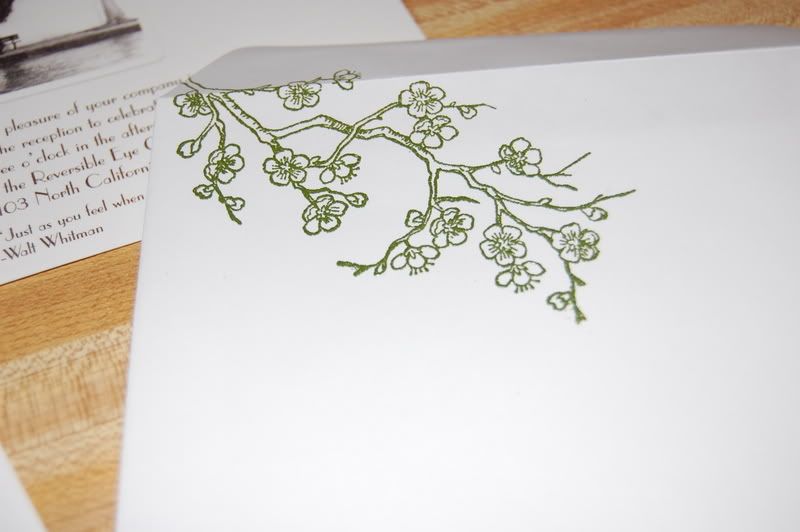 So, getting close! Just have to get the RSVP's finished, work on the map a bit more (I'm not totally jazzed with my first attempt, 4 hours and still not in love with it.....), the labels are nearly done, and my honey just bought the stamp on line!
Tell me what you think, or if you have any questions.
Thanks for looking,
M*