hahaha "bullet boob" that cracked me up.
i too am envious of a 19 inch waist. was your mom the original barbie? why is she worried? it looks great! they only thing i would change is to put a white ribbon lacing it up for more contrast. i dunno if it's as shiny in real life as it is in the picture, but it's kinda hard to see it laced up, and that's my fave part of a corset.
she did a lovely job

Yeah, it was a bit unnerving putting it on the first time. My chest is definitely not in the same place hers was. Yikes. Mostly she was worried that she might not do it right, or do right by me. I think she is ace, and has done an amazing job. She will be happy that you said you think it should be corsetted in white. That is what she keeps trying to foist on me! But, here is the dress I fell in love with, and you will understand then why I wanted the green detail. Plus, I think it ties it all together.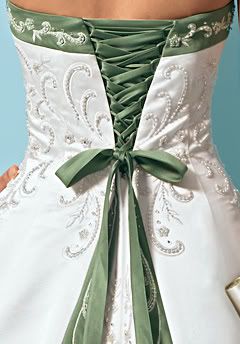 I am hoping it won't have as many photographic issues on the wedding day. The photos we took were indoors, in the evening, and with a flash. So, fingers crossed it comes up better.