Hello! I thought some other brides might find a couple things I did for our wedding helpful. One was I made my own version of the ubiquitous wedding planning book to keep us on schedule and the other was a scrapbook for the planning, to keep all those tidbits arranged for a look back later.
A) The Wedding Planner
I wasn't able to find a wedding planner on the market that suited my needs so I created my own. There are a few websites that were helpful, I just printed up the planning pages that I needed from them and added the ones that I needed but couldn't find. I printed up an inspirational picture and added letters. I carried this thing around with me to every appointment and interview I had during this period. It was my planning bible.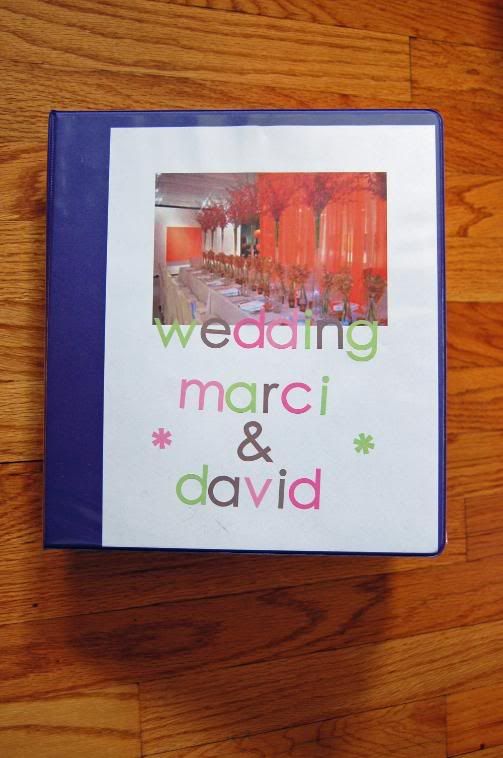 I put folders inside and saved every card we rec'd and marked on the back of each when I had finished writing the thank you. I never had to worry "Did I send Mr. & Mrs. Unnecessary Crystal Thing their thank you?", I knew I had if it was written on the back of the card. I kept one folder for each event. Local Wedding Shower, Michigan Wedding Shower, Chicago Wedding, Michigan Reception.
I added business card pages and could find anyone's business card immediately.
A very helpful $3 purchase.
I used these websites to print up pages that corresponded to our particular planning needs:
http://desenolab.toky.com/planner/timeline.html
http://www.howstuffworks.com/how-to-plan-a-wedding.htm
http://www.diybride.com/forums/index.php?sid=23829c1c58a0dbcc1c676f05f5a8a322
My particular binder had tabs & sections for all of these topics:
Marriage License Info, Budget, Financial Planning & Payment Dates, Important Phone Numbers, Ring/Jeweler Information, Florist/Flowers, Photographer, Rhearsal, Ceremony/Vows, Officiant, Reception Site, Seating Floorplans, Caterer, Baker Gowns/Alterations, Registrations Info, Shower, Brunch, Honeymoon, Rentals, Thank You's.
B) The Wedding Planning Scrapbook
This is fairly self explanatory. I had a lot of bits and bobs that I wanted to hold onto because I planned and designed and produced most everything for our wedding. In this scrapbook I kept copies of Save the Dates, Invitations, photos of us getting our marriage license, Engagement Photos, planning style sheets, photos of wedding showers & copies of invites, and I pressed flowers from my bridal bouquet and put them in glassine envelopes on a page with photos of our wedding flowers and my Mom and I creating the bouquets. I needed this extra scrapbook for all the things that just weren't in the scope of the wedding album and it made it possible for me to shove actual cards and notes into. This would be a GREAT thing to do for a bride if you're a bridesmaid, just save things along the way and photograph as many details as you can.
Cheap-o $5 scrapbook from the dollar store with one of our engagement photos in the front:
I kept buying scrapbook paper in each of our wedding reception's colours everytime JoAnn's or Michaels had a big sale and then just used whichever felt right: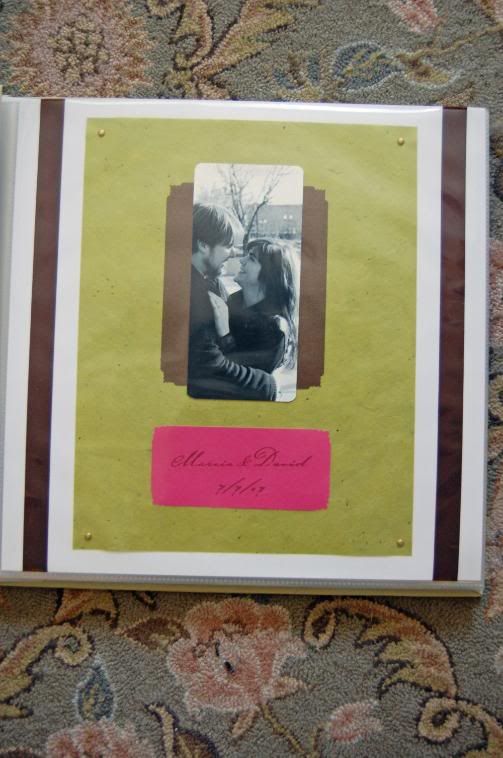 These pages showed all the bits of paper I collected and swatches of fabric and inspiration ideas for the look of the wedding, I did this for both receptions because they were different colour schemes:
Chicago Wedding & Reception:
Michigan reception: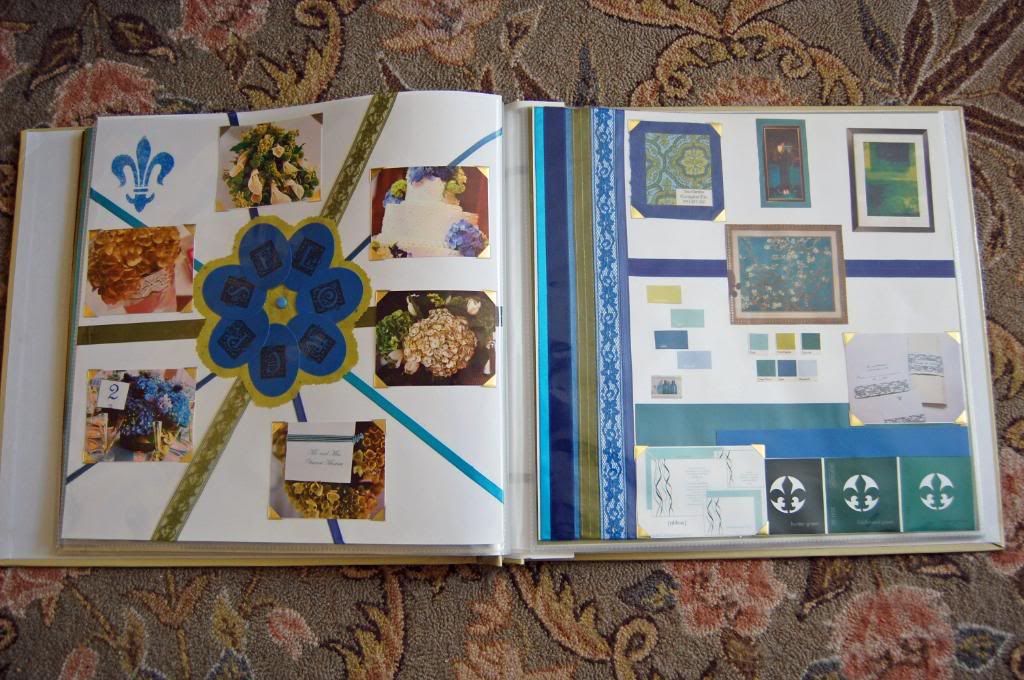 Copies of the invites, rsvps, menu, ceremony program: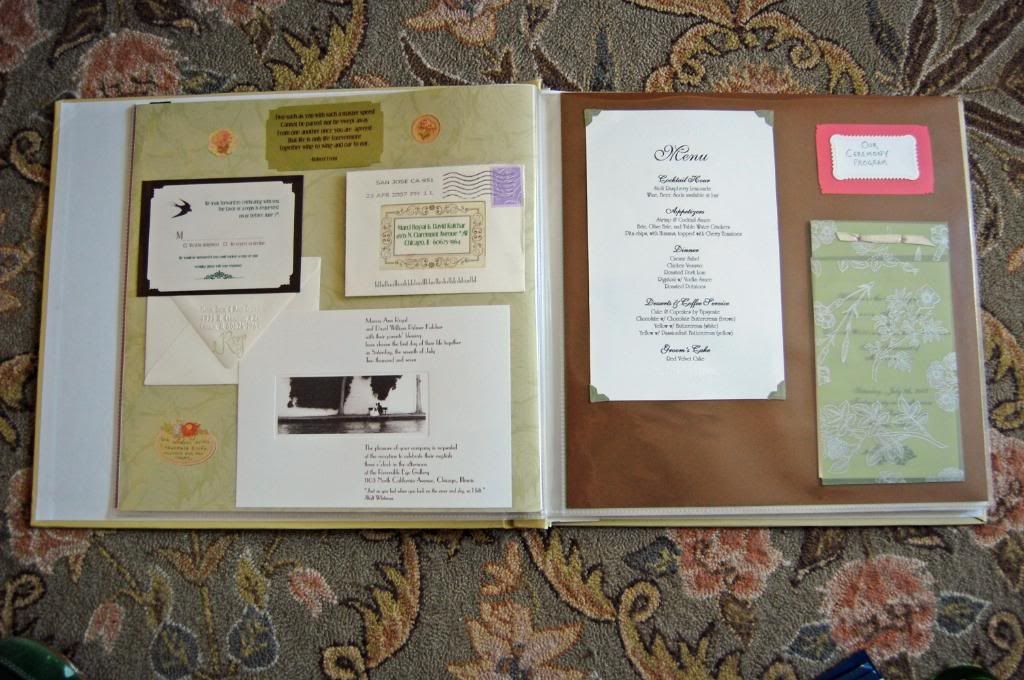 Pressed flowers from the bouquet saved in glassine envelopes and showing us making them: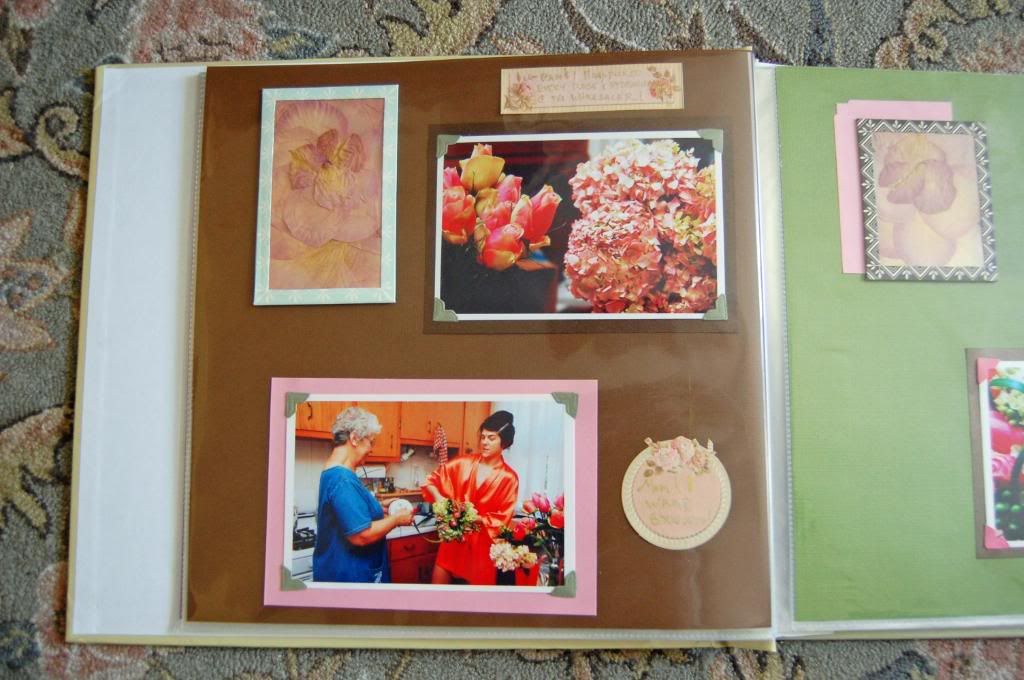 Newspaper clippings: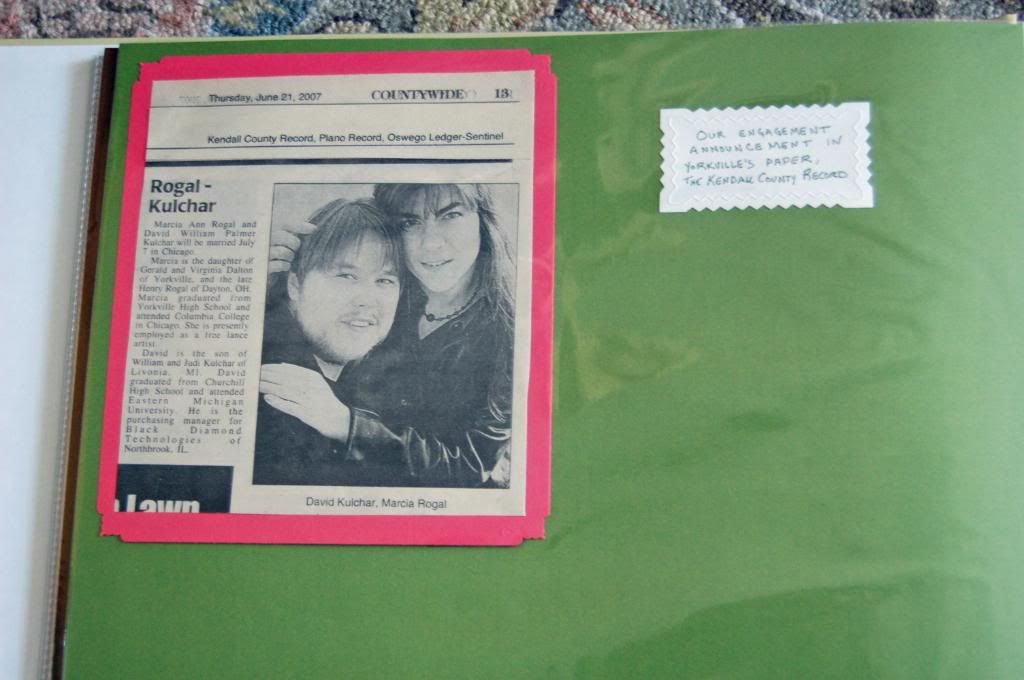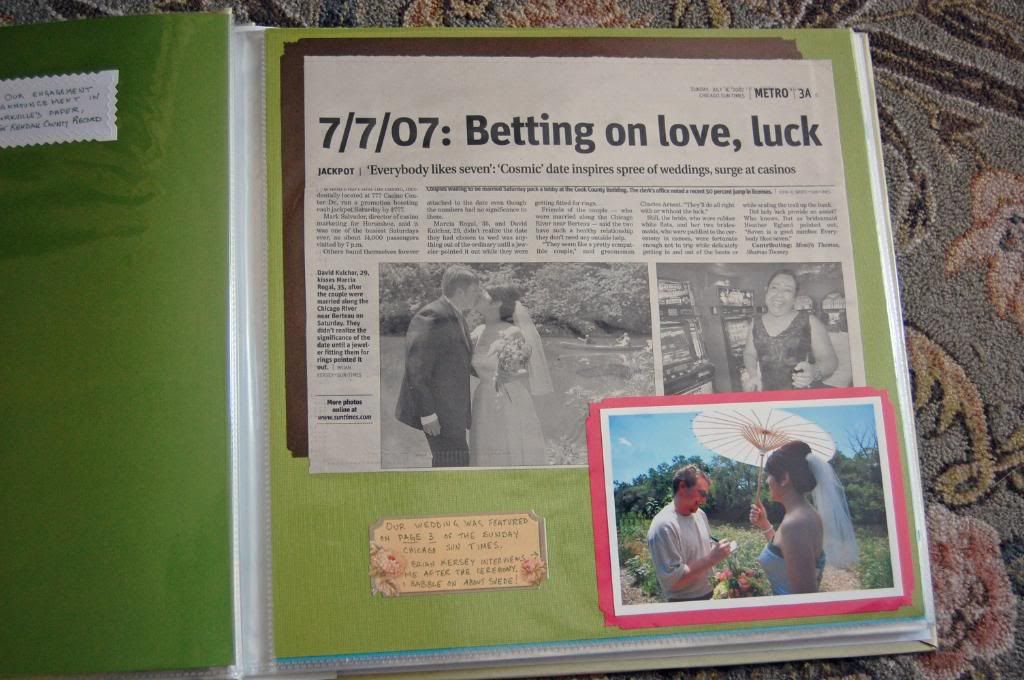 Shower photos and saved invitations:
Colour shift and second reception: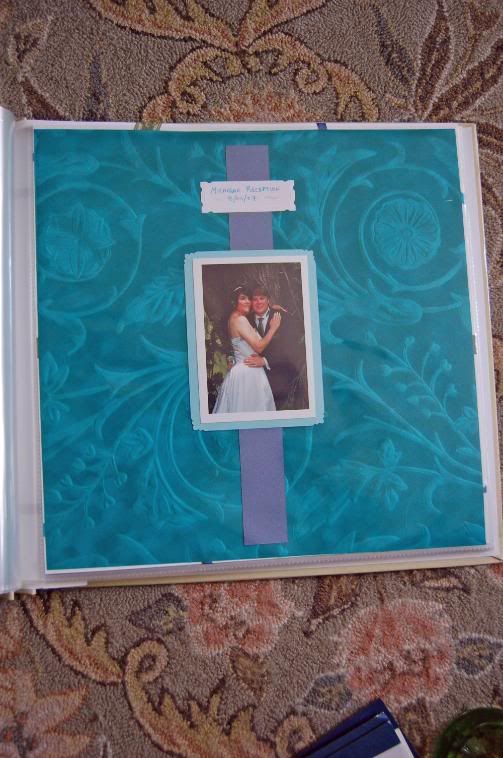 Second reception's invites, handmade: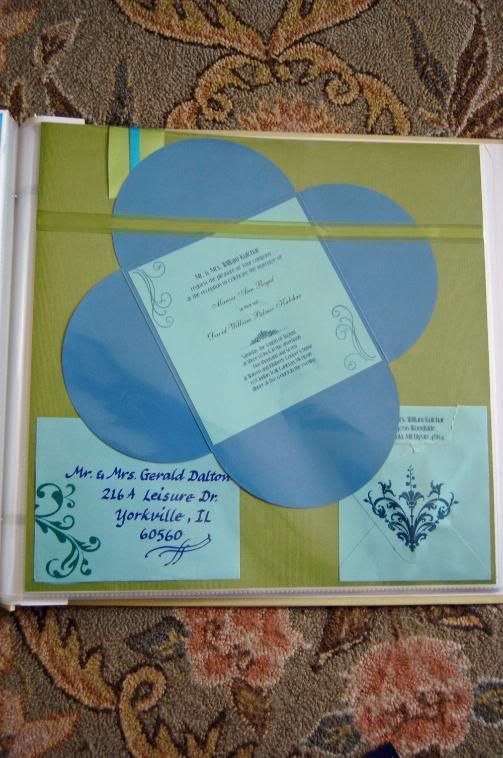 Wow, if you made it THIS far, you're a real trooper!