mum's close friend ann made these lovely mobile phone ties and gave them to me. i'm posting them here to show them off cos they look really awesome!!!! i think she made her own 'pattern' or something i dare not ask her for it cos i think she sells them or something.
2 cute dogs and a pig
close up of pig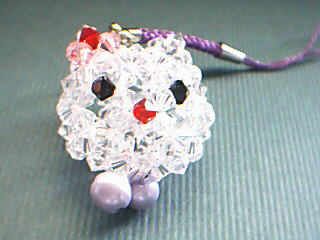 hello kitty with 2 purple bells.
they are kinda heavy for mobile phone ties because its real crystal beads. there are plastic look-alike beads that are way lighter but havent got that much sparkle i think. i'd love to learn how to make them but cant find any sites on the internet or any books at the store that have the instructions for this type of beading.
but dont they look cool?! they are all 3D