I had a blast making this! Thank you, ladylinoleum, for sharing your pattern with us! I used 6 strand embroidery floss. It's about 2" around, minus the nerve endings.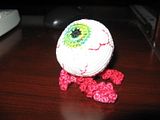 This eyeball is destined for my 7 year old nephew, who loves Halloween. At my request, DH got a (new) specimen container to put it in - it'll add to the gross out factor,
and
protect it during shipping!