I stitched this up from a pattern by Sense and Sensibility. Here's the pattern:
Swing Dress
It was a project for DH's grandparents' 60th wedding anniversary party. We all got done up in period dress. DH found a WWII Marine's uniform on Ebay, other men were able to round up stuff from the local VFW. We did a vow renewal, and my daughter had a fancy flower girl dress made by MIL.
It was a bit picky, as it's made with "retro" techniques as well. Lots of pinning and topstitching, rather than flat out sewing the seam. I have to say, I'm not really impressed with how it made up. Maybe the fabric was too busy, and it didn't show the detail as well. I think I could have really made it stand out in a more subdued print and piping at the detail areas.
At any rate, here it is: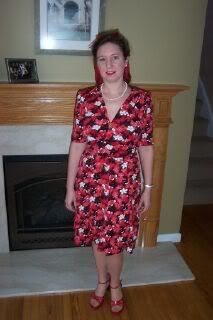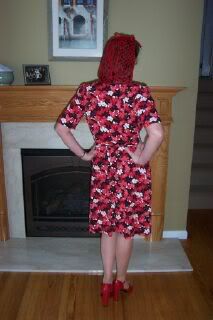 And a family pic, DS was being a butt and wouldn't get in the picture: