Hey lovelies! Soooo...I decided to have a play with spinning, and of COURSE I love it to bits
Oh I just adore it, I am kicking myself for waiting this long to try it! I have been an avid Fiber Fridays reader forever and ever and I'm so glad that now I can play
Here's a little 'first spinning' showoff...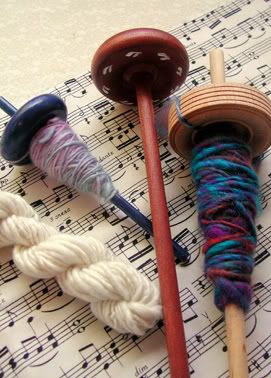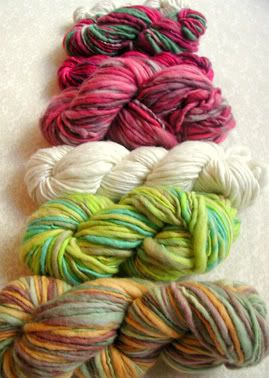 So here's my wee collection of spindles, all from Etsy, a lightweight top whorl, a bottom whorl (I think this one is my favourite) and a convertible (which I prefer as a top whorl). And the little white thang is my first yarn! It's so strange looking but I was tres proud
Theennnn, on the right are the yarns I've done so far, from top to bottom in the order that I spun them in.
I'm allowing myself to call the last one yarn, I'm not sure if any of the others 'count', tehe, they are lumpy and bumpy but I still love them. I find my favourite part is setting the twist, so fun!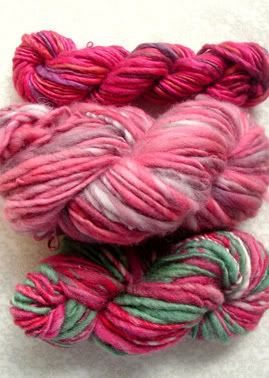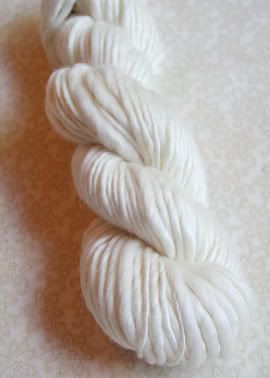 So these three are the first three I did after the little white one, the top is tencel/merino, the middle is merino that I tried to keep thick and the bottom is some of the practice roving that came with one of the spindles (I think that was go number 2).
Then I had a play with some more of my white merino which I was really quite happy with, it was lush to spin too, and looks much nicer than the first time I used it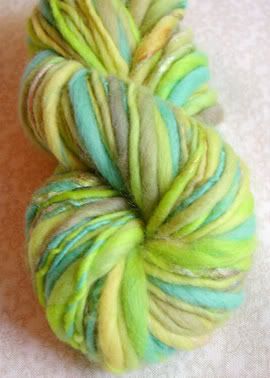 Then some green something, which is quite slubby and bumpy because I mixed a few rovings together as well as some silk (eep, hard!
), it's not got a name yet. I am getting better at joining as I do more though.
And the one on the right is my fave, I called it Fern Gully. This one is merino too and the most even one of the lot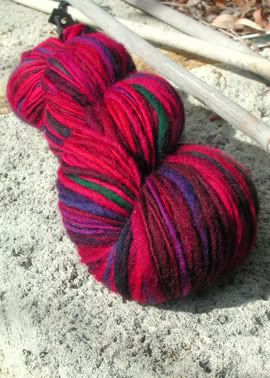 And the seventh go went to the lovely catpants in the choose your partner swap, and she received today so I can include it in this post, yay! This is 130 yards of Merino, 'The Royal Jewels'. It was hard to photograph, it's darker than it shows up here. I'm really happy with this one, real yarn, yay!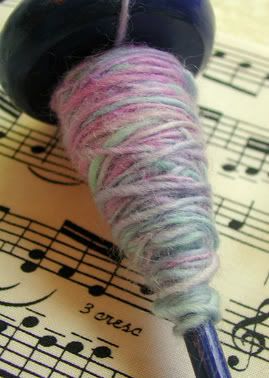 And this is what I'm playing with at the moment, some Bluefaced Leicester, trying to keep it thin and even on the new light spindle.
Thanks for letting me share, I love looking at all your work so much! We're looking at getting a wheel in the near future too, so very excited about that!
Next stop...plying *ack!*