Hello all! This is my first time on this particular board... so I really hope this is the correct board! I say "yardage" because it really isn't more than a yard all together, but you know.... yeah. This is the first time that I have ever done anything like this, and I think that I could probably be more efficient with it if I chose to do it again, but..... Oh well!
Ok, background story. I need to have a new purse bag. The one that I currently own and actively use, I love and it was given to me as a gift, but it isn't the most functional. One pocket, and a big flap that is closed with very inconvenient clips. So I decided that I want to make my own bag, with LOTS of pockets, completely functional, and be all completely perfect and everything I wanted. But I can't find fabric that I liked. So... I dug out a piece of this solid black canvas material from my stash, grabbed a roll of duct tape, my stash of acrylic paints, and textile medium, and went at it. This is what I came up with!
You can see the wad of duct tape that I used. The top left corner with a bunch of colors on it was me experimenting with what I color I wanted to go with.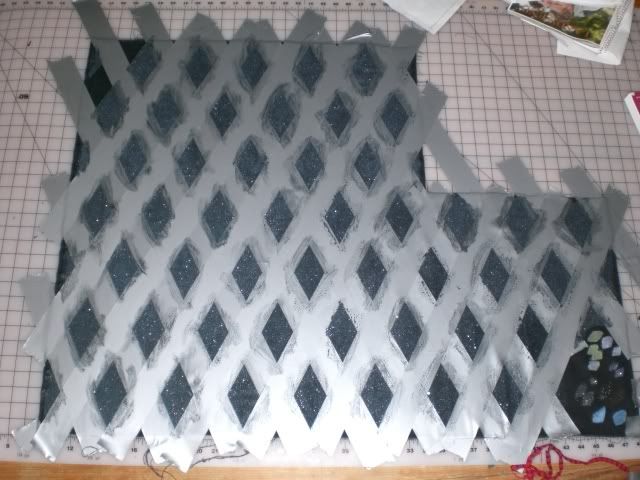 There's after the first set of duct tape, and painting the free spaces.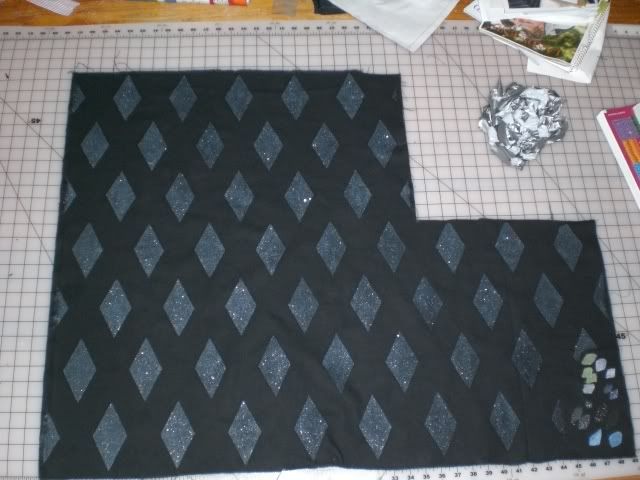 After duct tape is removed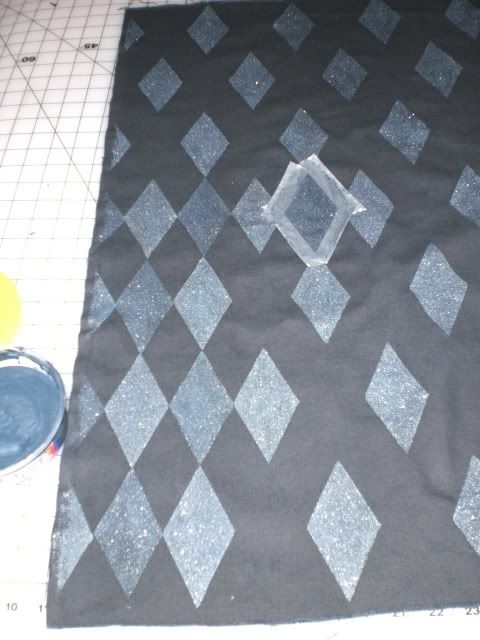 Ok, after that first set of diamonds, I tested a bit of the duct tape directly on the paint, and some of the glitter got pulled off. I didn't want that, so I decided that I would have to do the rest of the diamonds individually. Uh.... it look a long time.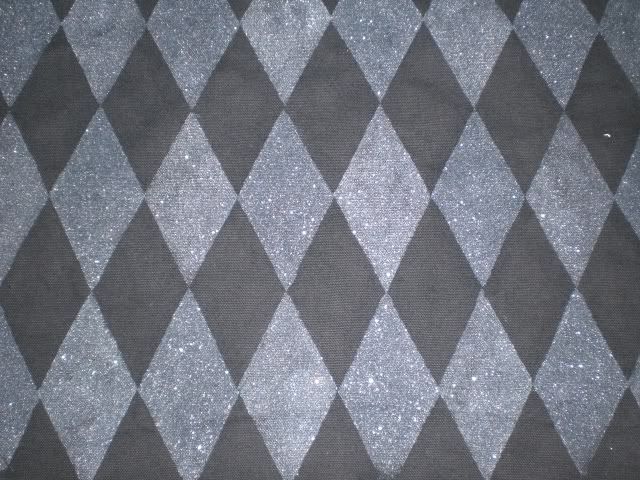 Close up of it finished! The fabric is actually originally black, it looks really light in this picture... The acrylic paint was a mixture of blacks (matte and metallic), blues (matte and metallic), silver (metallic!!), a bit of glitter fabric paint, and textile medium. Anyway, Not entirely perfect, but I'm happy with it. I love that (most of) the lines came out so crisp! I just need to let it dry and set it with my iron. WHOOO! Now I have to make the pattern for my bag.
Not bad for a first time, right? I'm just happy that instead of spending MORE money on MORE fabric, I was able to get something I like, all with stuff I have on hand. I did really enjoy doing this though, and would consider doing it again!