So I saw this really cool idea for some tins while i was browsing the Ikea website. Here's the pic....
But i didn't like the colors but the idea of painting on tins was pretty cool, and I have lots of them around. So i'm moving to a new apartment next week to start my internship and my new bathroom has no hidden storage. It's just a pedestil (sp?) sink and open shelves so i though why not hide a bunch of junk in these tins. So i painted them a couple of cute colors and think i might put my buddha painting in the bathroom too, so i think i'm going for some religion theme. I put the elephant on one and might put a buddha on the other or something...i'm not sure..any ideas would be great. Not to mention i tried to do something cool on the side of the tin and it didn't work out, i don't like it so if anyone has an idea let me know...I'm excited to see what everyone thinks.
Tins right after i painted them the base color...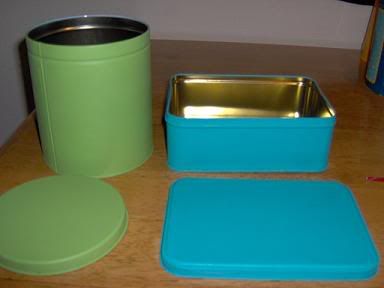 Top of tin...
Side of tin, that i hate...
*i'm still really new to this, if you can't see the pictures please please please let me know and i'll try to fix it