My first embroidery! It's terrible. My satin stitch is horrid. It's unevenly placed and rather crinkly. In my defence: It's about zombies! It's okay for it to be wonky and uneven.
Anyways, I was browsing the archives of completed projects, and saw a title that made me gigglefit: "Zombies love me for my brains!". It was an embroidered... an embroidery? ... a picture of a brain, and that's it. It put a bug up my butt that then lit a fire and I had to stop everything I was doing to embroider this idea. I used... oh, I don't know, some fabric with holes in it... sewing thread, and sewing needle. I fail at embroidery floss.
Before this I had done some embellishing on a bag using the chain stitch, and I am sort of working on a project (a bunch of leaves) where I'm using chain stitch to outline and fill in the leaves. So I came into this project only know that I wanted it to be 8"x10" (So I could easily find a frame), say "zombies love me for my brain", have a picture of a brain, and have the word brain be wonky. I consulted The Readers Digest Guide to needlework, and found out about the 'whipped running stitch'. I used this for the outlines. I'd previously tried to use satin stitch, but it was horrid, so I decided to give it another try. Still horrid, but it's much better than it was before. The heart is filled in with chain stitch, and the rest is filled in with satin. I'm very, very glad I had enough of the bluish grey to do the word "zombies". it reminds me of the bluish grey that most movies paint their zombies up to be. I got the outline of the brain from online, just googling "outline drawing of a brain." and the words I did using Paint, a bit of paper, and some... um, 'dressmakers carbon' to transfer it.
Anyways, enough jibberjabber. Here is some picturs!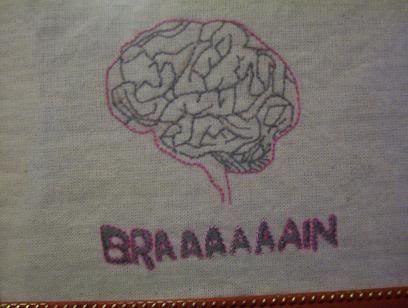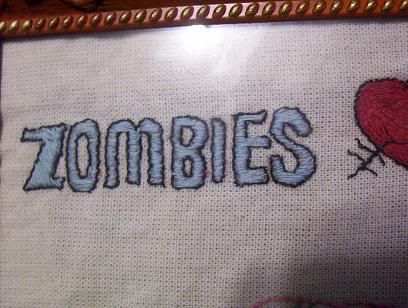 and one more shot of it all: