As I mentioned in another post, I kinda went a little crazy at a fabric sale recently!
This is the second creation of the fabric splurge!!
It's just a little knit cotton stretch material, nice and soft, with orange and white stripes!
I wanted a cute + comfy dress just to bum around town in.
This was originally a circle skirt with a boob tube at the top!
I then realized I had lots of ribbon that I'd just purchased!
So, I braided together 2 navy and 1 white ribbon, attached it just under the boob tube, and meant to use it as a belt!
Well, while putting it on, I pulled the ribbons up, and realized it was so much cuter if I cinched the boob tube to the ribbons, and used them as a halter.
I love it!! It's super comfy and definitely easy to throw on in the mornings!
Let me know what ya think!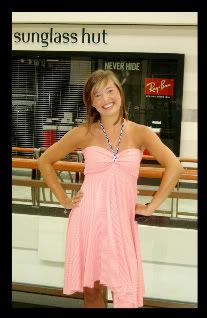 I only have the one picture, and because of the way I'm standing, the bottom looks all sorts of crazy! Haha just my luck!