i started belly dance lessons this monday.
i managed to talk my husband into the lessons, but not the hip shawl i'd need or anything for the 'student show' that we'll be doing at the end of the classes.
so rather than not having any thing, i made my own.
to get the jingly noises, i went through my beading supplies and hauled out a lot of chain and a lot of little metal charms.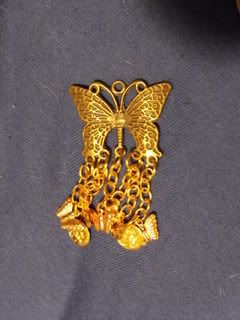 this is one of my favs and tentatively for the student show outfit, depending on what the 'theme' is. a pewter butterfly charm with gold tone chain, and brass and copper butterfly and flower charms.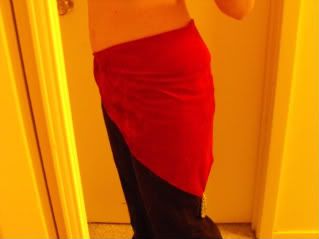 my oh so easy hip scarf. made a triangle, squared off the top two corners, used scrap materials to make loops and i tie it with a pirate shoelace. this is crushed red velvet, and i'm gonna make a few more in other colors and materials.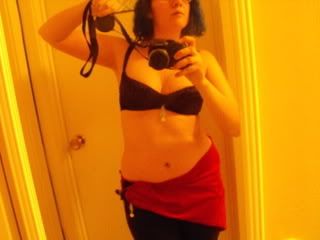 my first bra! omg it was soo hard. i wasn't going from a pattern, but from another bra i have. it turned out really well, but next time i think i need to make it a bit bigger. this one is good for most of my arm waving, unless i am bending over, which is when the left boob escapes. (and only the left one, for some unknown reason). its made of a stretchy satin-y material, elastic, ribbon (for the straps) and t-shirt material for the lining.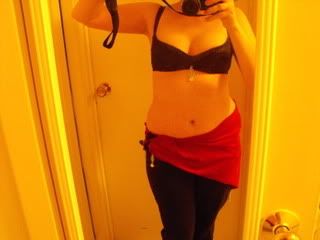 just a better shot of the whole deal. i didn't make the pants, but i'm working on a black underskirt and a set of white harem pants.