I received from gsdbooks today!!! I absolutely love everything! I got:
the pattern: Twisted Maiden Fingerless Gloves, by Anushka Tay
the yarn: 2 balls of Rowan all seasons cotton in a really nice navy
Plus:
a skein of Sugar 'n Cream stripes in country stripes
a beautiful crochet hook case
2 sets of really pretty stitch markers
3 rubber stamps
several metal scrapbook embellishments
a scrapbooking pencil that writes on metal and glass and stuff
scrapbooking scissors
cardstock squares
DMC floss and needles
some really pretty sheer ribbon
post its
glitter
a retractable tape measure
a yarn needle
snowflake sequins
and some really cool fabric - one with fish and one Quidditch!!!
And...pics!!!
In the box: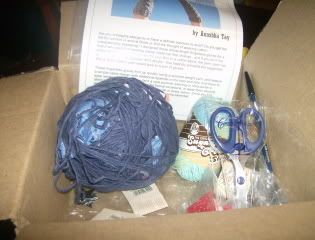 All unwrapped: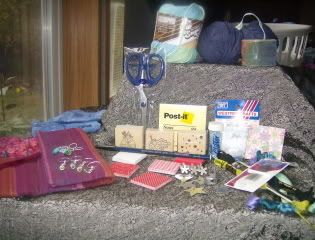 The stitch markers:
The crochet hook case:
Thanks so much, gsdbooks, and thank you, itscute for organizing!!!