I'm in!
Knitting a baby blanket for a friend due at Christmas!
Pattern:
Baby Diamonds, Knitting and Crochet Mag in Australia, Issue 2 pg. 52
Changed my mind, due to lack of patience (always an issue with me!) to
Pinwheel Baby blanket
http://www.knitlist.com/00gift/round-baby-blanket.htm
Yarn: Patons Big Baby 4ply in white #2540
Needle: 3.25mm Addi Turbo circulars with 100cm length
Started: Around noon... today
Methods used: Magic Loop (see tute's here:
http://www.az.com/~andrade/knit/mloop.html
my fave still after five years~ and video
http://www.graspr.com/videos/Magic-loop-knit-in-the-round-on-a-long-circular-needle-1
My progress: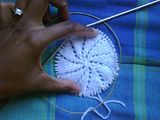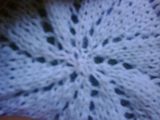 Hope for the best!
Emmie